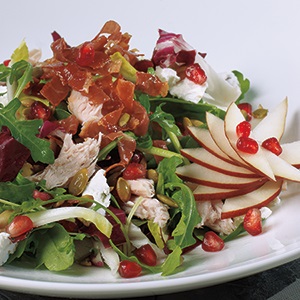 SMOKED TURKEY SALAD WITH POMEGRANATE VINAIGRETTE
Ingredients
Serves 4 to 6
¼ cup (60 ml) pomegranate juice
3 tbsp (45 ml) extra-virgin olive oil
3 tbsp (45 ml) sherry vinegar
1 tsp (5 ml) Dijon mustard
1 clove garlic, finely minced
½ shallot, peeled and finely minced
sea salt and freshly ground black pepper
¼ lb (125 g) prosciutto, thinly sliced, cut into ½-in (1.25 cm) strips
1 x 5 oz (140 g) bag pre-washed baby arugula
1 small Belgian endive, cleaned, dried and julienned
1 small head radicchio, washed, dried and cut into ½-in (1.25 cm) julienne pieces
¾ lb (340 g) smoked turkey breast, shredded or cut into ½-in (1.25 cm) dice
2 ripe pears, halved, cored and thinly sliced
2 to 4 oz (60 to 125 g) goat's cheese, for garnish
1 cup (250 ml) pomegranate seeds, for garnish
½ cup (125 ml) toasted pumpkin seeds, for garnish
Instructions
In a mixing bowl, whisk together Vinaigrette ingredients until well blended. Set aside.
For Salad, heat olive oil in a medium-sized frying pan over medium-high heat. Add prosciutto and brown on all sides, about 3 to 4 minutes, or until crisp. Drain on paper towels.
In a large bowl, add arugula, Belgian endive, radicchio, smoked turkey and pear slices. Drizzle with half the vinaigrette and toss well. Divide among 4 to 6 chilled serving plates. Garnish with goat's cheese, pomegranate seeds and pumpkin seeds. Serve remaining vinaigrette on the side.
Drink Pairings