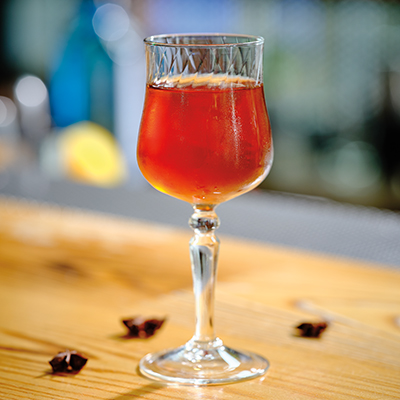 Ingredients
Serves
1½ oz (45 ml) Aalborg Taffel Akvavit
½ oz (15 ml) Averna Siciliano Amaro
½ oz (15 ml) Alvear Medium Dry Sherry
2 tsp (10 ml) tamarind syrup* (or substitute simple syrup**)
3 dashes chocolate or Angostura Bitters (optional)
1 strip orange zest and star anise, for garnish
* In a small saucepan, combine 2 tbsp (30 ml) tamarind paste and 2/3 cup (150 ml) water. Whisk to dissolve and incorporate paste and bring to a light simmer. Strain through a coffee filter to remove any remaining solids. Add 6 tbsp (75 g) white sugar and stir until dissolved. Store in refrigerator for up to 1 week.
** 1:1 ratio of sugar dissolved in boiling water. Allow to cool before using.
Instructions
Combine all ingredients except for garnishes in a mixing glass, add ice and stir for 10 to 15 seconds, until well chilled and diluted. Pour into a chilled coupe glass, twist orange zest over drink to expel oils and garnish with star anise.
Featuring