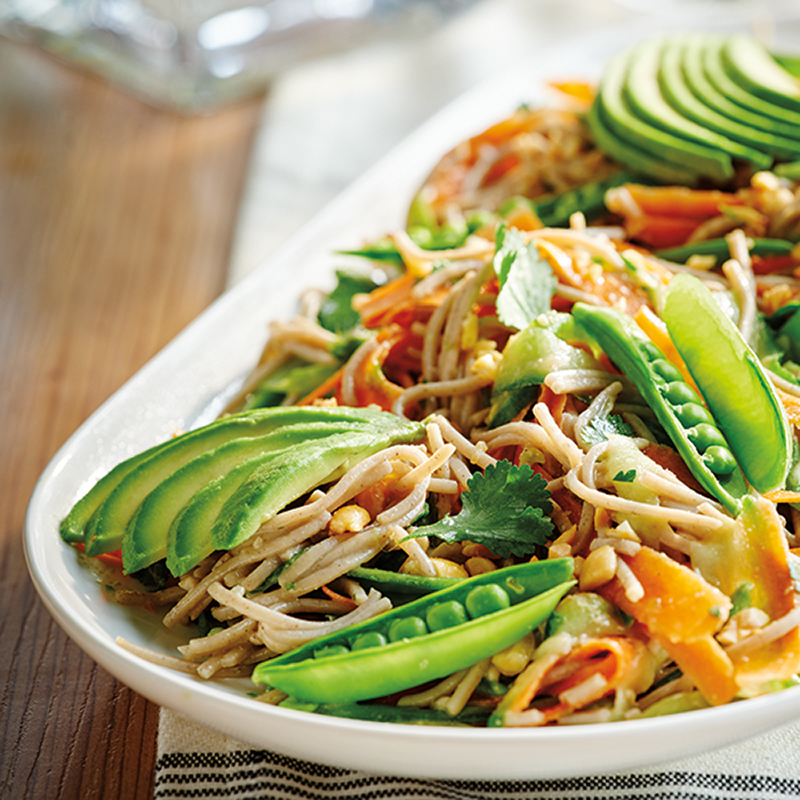 SOBA NOODLE SALAD WITH MISO DRESSING
Ingredients
Serves 2 as a main or 4 as a side
10 oz (300 g) dried soba noodles
1 tsp (5 ml) ginger, minced
1 tbsp (15 ml) white miso paste
2 tbsp (30 ml) warm water
1 tbsp (15 ml) rice wine vinegar
1 tsp (5 ml) Sriracha, or to taste
1 English cucumber, cut into ribbons with a peeler
2 carrots, peeled, cut into ribbons with a peeler
2 cups (500 ml) halved sugar snap peas
½ cup (125 ml) chopped cilantro
1 large avocado, sliced, for garnish
½ cup (125 ml) chopped peanuts, for garnish
Instructions
In a medium saucepan over high heat, bring water to a boil. Add soba noodles and cook until tender, about 8 minutes. Drain and rinse under cold water for 1 to 2 minutes to stop cooking. Set aside.
To make dressing, in a small bowl, add garlic, ginger, miso, water, soy sauce, honey, sesame oil, vinegar and Sriracha. Mix to combine. Set aside.
To assemble salad, in a large salad bowl, place noodles, dressing, cucumber, carrot, snap peas, green onions and cilantro. Pour dressing over and mix well.
To serve, garnish with avocado slices and crushed peanuts.
Drink Pairings