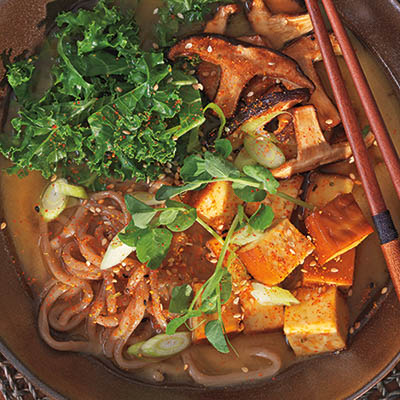 SOBA NOODLE SOUP WITH SMOKED TOFU AND SHIITAKES
Ingredients
Serves 4
2 thick slices peeled ginger root
8 x 8-in (20 x 20 cm) sheet kombu
8 dried shiitake mushrooms
8 cups (2 L) boiling water
½ cup (125 ml) white miso
4 tbsp (60 ml) tamari soy sauce, divided
300 g (10 oz) block smoked tofu, cut into ½-in (1.25 cm) cubes
3 tbsp (45 ml) sesame oil, divided, plus extra
2 to 4 tsp (10 to 20 ml) Sriracha sauce, to taste
300 g (10 oz) pkg buckwheat soba noodles, cooked
1 small bunch kale, stems removed, leaves slivered
4 green onions, trimmed, thinly sliced
1 tbsp (15 ml) toasted sesame seeds
togarishi spice, to taste
pea shoots, for garnish (optional)
Instructions
Add ginger, kombu and dried shiitakes to large saucepan of boiling water. Set aside, steep for 20 to 30 minutes, then carefully strain stock into a separate saucepan, leaving behind any grit in bottom of pan. Strain through filter, if desired.
Remove ½ cup (125 ml) stock to a small bowl and stir in miso until smooth paste. Stir into saucepan containing stock. Gently heat to a low simmer. Add lime juice and 2 tbsp (30 ml) tamari to taste. Cover and keep warm.
Preheat oven to 400 F (200 C). Place cubes of tofu in a baking dish and drizzle with 1 tbsp (15 ml) sesame oil. Drizzle with Sriracha, as preferred. Stir cubes gently to coat. Set aside.
Place sliced fresh shiitakes in a large bowl and drizzle with remaining 2 tbsp (30 ml) each tamari and sesame oil. Toss to coat and spread on baking sheet lined with parchment. Place dish with tofu and sheet with shiitakes in preheated oven. Roast tofu, flipping a couple of times, until hot and crisp. Stir and toss shiitakes on sheet until tender and begin to shrink, about 10 minutes. Remove pans with tofu and mushrooms to cooling rack.
Bring a large saucepan of water to boil. Add noodles and cook, stirring to prevent sticking. When noodles are tender but still firm and holding shape, about 3 to 4 minutes, drain and rinse under cool running water. If not using immediately, transfer to a bowl and toss with some sesame oil to prevent sticking.
Stir kale into simmering stock just until it turns bright green, 1 to 2 minutes. Divide kale among heated serving bowls, top each with cooked noodles, then shiitakes and tofu. Ladle hot broth over top and sprinkle with green onions, sesame seeds and dashes of togarishi. Scatter with fresh pea shoots, if desired.
Drink Pairings