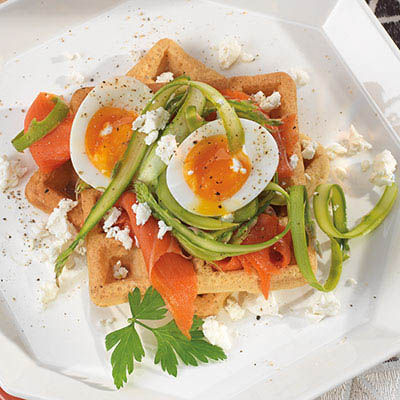 Ingredients
Serves 4
2¼ cups (560 ml) chickpea flour (also called garbanzo bean flour)
3 tbsp (45 ml) olive oil, divided
1 pinch granulated sugar (optional)
2 tsp (10 ml) lemon juice
salt and pepper, to taste
8 thin slices smoked salmon
4 oz (125 g) goat's cheese, crumbled
Instructions
In a large bowl, whisk together chickpea flour, water, 2 tbsp (30 ml) olive oil, salt and sugar, if using. Cover and set batter aside at room temperature for at least 1 hour and up to 9 hours.
Bring a saucepan of water to a boil. Gently lower eggs into water and boil for 6 minutes before draining and running under cold water to cool. Carefully peel and set aside.
Preheat waffle iron.
Thinly slice asparagus with vegetable peeler and place in a large bowl before tossing with remaining 1 tbsp (15 ml) olive oil, lemon juice and a pinch of salt. Marinate for 10 minutes.
Brush waffle iron with a little olive oil or cooking spray. Working in batches, fill waffle iron with batter and cook until golden and crisp, about 5 to 8 minutes. Transfer cooked waffles to a plate while cooking remaining waffle batter.
To serve, divide waffles among serving plates. Top with slices of smoked salmon, crumbled goat's cheese and a heap of shaved asparagus. Cut eggs in half and place 2 halves on top of each serving. Garnish with a sprinkle of pepper and serve immediately.
Drink Pairings