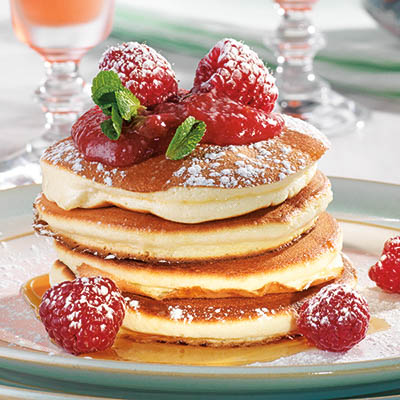 SOUFFLÉ PANCAKES WITH RHUBARB COMPOTE
Ingredients
Serves 4
⅓ cup (75 ml) all-purpose flour
1¾ tsp (9 ml) baking powder
1 tbsp (15 ml) whole milk
1 tsp (5 ml) vanilla extract
2 tbsp (30 ml) white sugar
powdered sugar, for garnish
1 cup (250 ml) rhubarb, washed and cut into 1-in (2.5 cm) pieces
½ cup (125 ml) white sugar
¼ cup (60 ml) lemon juice
½ vanilla bean, split and scraped
Instructions
To make PANCAKES: In a medium sized bowl, sift together flour and baking powder, set aside.
In a separate bowl, mix milk, egg yolks and vanilla extract. Add wet ingredients to dry ingredients until combined (some lumps are ok). Set aside.
In a medium sized bowl, with an electric mixer, mix egg whites and salt until frothy. Gradually add in sugar and continue mixing until soft peaks form.
Mix ¼ the egg white mixture into batter mixture until combined. Gently fold remaining egg white mixture into batter and fold just until combined. Do not overmix.
Heat a non-stick griddle to low-medium heat and melt butter, spreading around the griddle. Drop ¼ cup (60 ml) of batter onto griddle and cook until small bubbles form on outer edges of each pancake and bottom is golden brown, 3 to 4 minutes. Gently flip pancakes over and cook until other side is golden brown and pancakes are cooked through, 3 to 4 minutes.
Serve with Rhubarb Compote and maple syrup. Garnish with berries and powdered sugar.
To make RHUBARB COMPOTE: In a medium saucepan, add all ingredients and cook over medium heat until rhubarb is soft and liquid is thick and syrupy, about 30 minutes. Mash rhubarb into liquid and combine. Compote can be refrigerated for up to 2 weeks.
Drink Pairings