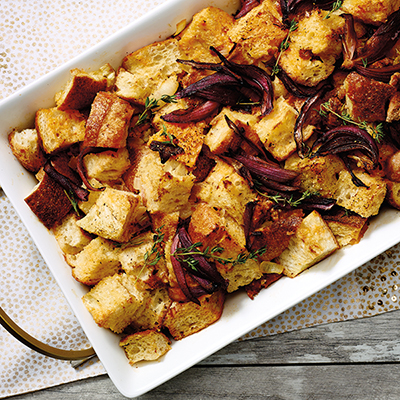 Ingredients
Serves 8
1 loaf of sourdough, roughly 8 cups (2 L), cubed
2 tbsp (30 ml) extra-virgin olive oil, divided
3 chorizo sausages, casings removed
½ cup (125 ml) chicken stock
salt and pepper, to taste
½ red onion, sliced vertically into thin wedges
1 tbsp (15 ml) balsamic vinegar
Instructions
Preheat oven to 350 (180 C).
In a large mixing bowl, place cubed sourdough bread.
In a medium skillet over medium heat, heat 1 tbsp (15 ml) oil. Add diced onion, garlic and thyme, and sauté until translucent. Add chorizo, using a spatula to break up sausage as it cooks. Remove from heat and add to bread.
In a separate mixing bowl, beat together eggs, milk and chicken stock. Season with salt and pepper. Pour over bread and place in a 9-in x 9-in (23 cm x 23 cm) casserole dish.
In same skillet, over medium heat, heat oil. Add slices of red onion and balsamic vinegar. Cook until tender, then scatter over stuffing. Bake for 30 to 40 minutes, until golden and crispy on top.
Drink Pairings