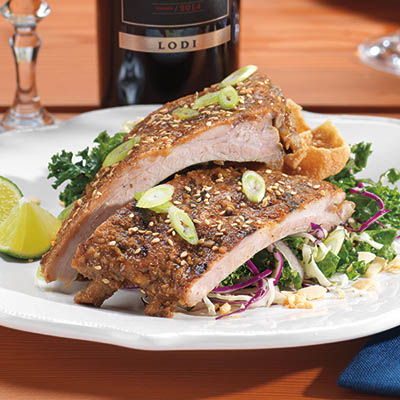 SOY, LIME AND SESAME PORK RIBS
Ingredients
Serves 4 to 6
2 racks pork side ribs, about 3 lbs (1.5 kg)
½ cup (125 ml) brown sugar
2 tbsp (30 ml) kosher salt
1 tbsp (15 ml) finely grated lime zest
2 tsp (10 ml) ground cumin
1 tsp (5 ml) each black pepper, garlic powder, ground ginger, and cayenne
2 tbsp (30 ml) lime juice, plus extra if needed
1 tbsp (15 ml) sesame oil
2 green onions, chopped, for garnish
1 tsp (5 ml) toasted sesame seeds, for garnish
CRUNCHY CABBAGE AND KALE SALAD WITH THAI DRESSING:
2 tbsp (30 ml) fresh lime juice
2 tbsp (30 ml) extra-virgin olive oil
1 tbsp (15 ml) Ponzu Sauce
2 tsp (10 ml) ginger paste
2 tsp (10 ml) brown sugar
½ cup (125 ml) canola oil
2 cups (500 ml) finely shredded red cabbage
2 cups (500 ml) finely shredded green cabbage
2 cups (500 ml) shredded fresh kale
½ thinly sliced red onion, separated into rings
2 Thai red chili peppers, seeded and slivered
½ cup (125 ml) mixed minced fresh cilantro and mint
½ cup (125 ml) salted, roasted peanuts, chopped, for garnish
½ cup (125 ml) salted, roasted peanuts, chopped, for garnish
Instructions
Preheat oven to 350 F (180 C). Or heat barbecue to medium.
To provide optimum flavours, remove silver-skin membrane from underside of ribs. Slide a dull knife under silver-skin along rib bone to loosen. Then with a clean dry cloth or paper towel, grip loosened membrane and pull from bones. It should come free in one full piece. Discard. Place ribs side by side, bone side down, on a piece of heavy-duty foil, large enough to wrap and seal.
Combine sugar, salt, lime zest and dry seasonings in a bowl. Stir with a fork to blend. Rub meaty side of ribs with dry seasoning mixture reserving ¼ of mix for later. Wrap and seal ribs and place on a baking sheet. Bake in preheated oven or in a closed barbecue for about 2 hours or until meat is tender and is easily cut from bone.
To make glaze, add soy sauce, lime juice, honey and sesame oil to remaining dry rub seasoning mixture. Whisk to blend.
When ribs are tender, open foil and generously brush both sides of ribs with soy glaze. Leaving foil pack open, continue to bake in oven for 20 minutes. Alternatively, for drier ribs, grease barbecue grill and increase heat to medium-high. Remove ribs from foil and place meat side down on greased grill. Close lid and barbecue over medium high for 10 minutes. Gently turn ribs and continue to grill for 10 more minutes.
Remove to a cutting board and let rest for 10 minutes before cutting into serving-size pieces. Drizzle with more lime juice, if you wish. Sprinkle with green onions and toasted sesame seeds. Serve with Crunchy Cabbage and Kale Salad.
To make CRUNCHY CABBAGE AND KALE SALAD WITH THAI DRESSING: Combine dressing ingredients in a bowl and whisk until blended. Set aside. Can be made ahead and refrigerated until ready to serve.
Cut wonton wrappers into ½-in (1.25 cm) wide strips. Heat canola oil in a medium-sized, deep saucepan. Add strips in small batches and fry until golden and crisp. Remove with a slotted spoon to paper towel-lined plate to drain. Repeat with remaining strips. Set aside.
In a large bowl, combine cabbage, kale, onion, chilies and herbs.
Give dressing a whisk and drizzle over salad. Gently toss to evenly distribute. Sprinkle with crispy wonton strips and peanuts. Scatter with toasted coconut, if using, and serve with Soy, Lime and Sesame Pork Ribs.
Drink Pairings