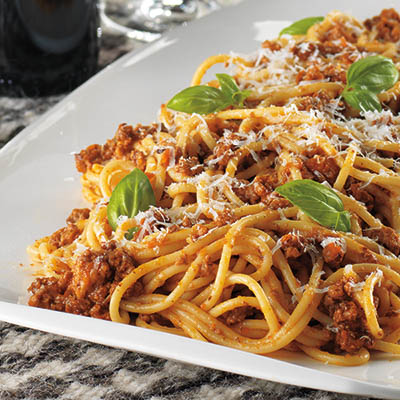 Ingredients
Serves 4
2 oz (60 g) pancetta, diced
2 tbsp (30 ml) butter, divided
1 large onion, finely diced
1 garlic clove, finely minced
1 large carrot, finely diced
1 celery rib, finely diced
½ lb (250 g) extra lean ground beef
½ lb (250 g) extra lean ground pork
2 tsp (10 ml) kosher salt
½ tsp (2 ml) freshly ground pepper
1 tbsp (15 ml) tomato paste
¾ cup (175 ml) Italian red wine
¾ cup (175 ml) tomato passata (crushed tomatoes)
1 cup (250 ml) beef stock
1 cup (250 ml) homogenized milk
8 oz (250 g) dry spaghetti
2 tbsp (30 ml) grated Parmesan
Instructions
In a large Dutch oven over medium heat, cook pancetta in 1 tbsp (15 ml) butter until fat has rendered. Add onion, garlic, carrot and celery. Cook until vegetables have softened, stirring frequently, about 10 to 15 minutes.
Turn heat up to medium-high, crumble ground beef and pork into pot. Season with salt and pepper. Break up meat and stir into vegetables. Cook until meat has browned lightly, about 20 to 25 minutes.
Add tomato paste and cook until paste has caramelized slightly, about 10 minutes. Add wine and stir to scrape up browned bits from bottom. Add crushed tomatoes, beef stock and milk. Turn heat down to a simmer and cover. Simmer for about 3 hours, stirring occasionally. Sauce should be thick with fat on top.
Add spaghetti to boiling salted water, and cook according to package instructions. Put aside ½ cup (125 ml) of pasta water, then drain pasta and add to sauce. Add 1 tbsp (15 ml) butter and Parmesan, toss until pasta is coated. If too dry, add some reserved pasta water. Serve on a platter, garnish with more grated Parmesan and basil, as desired.
Drink Pairings