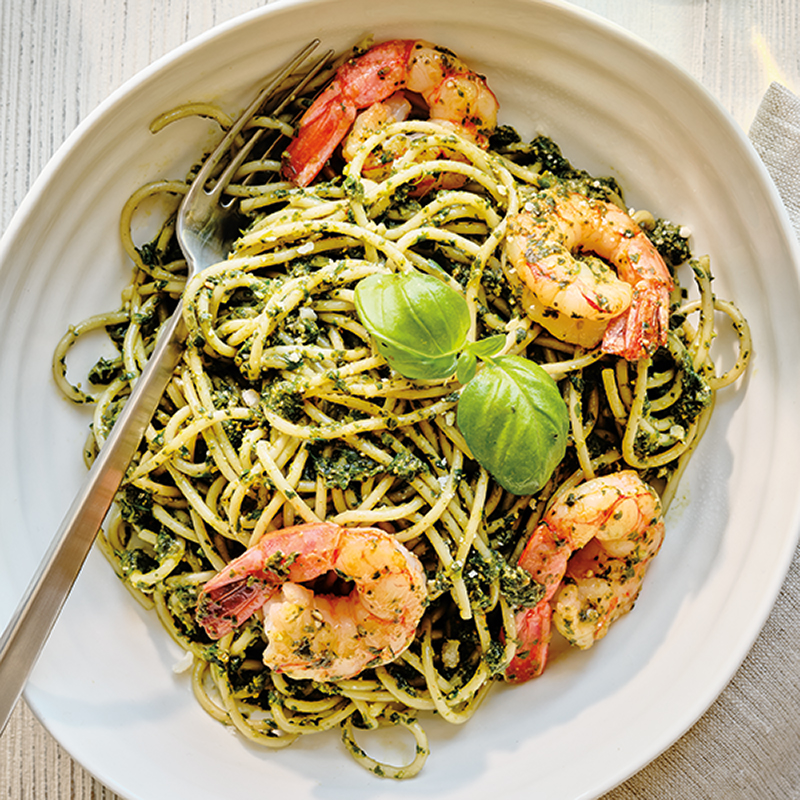 Spaghetti with Prawns & Basil Pesto
Ingredients
Serves 4
1 cup (250 ml) tightly packed fresh basil leaves, plus extra for garnish
2 tbsp (30 ml) toasted pine nuts, plus extra for garnish
3 tbsp (45 ml) grated Parmesan, plus extra for garnish
3 tbsp (45 ml) + 2 tbsp (30 ml) extra-virgin olive oil, divided
¼ tsp (1 ml) kosher salt, plus extra for boiling pasta
1 lb (454 g) prawns, peeled and deveined
Instructions
In a small food processor, combine basil, pine nuts, garlic, lemon zest and juice, and Parmesan. Pulse until chopped. While food processor is running, slowly drizzle in 3 tbsp (45 ml) olive oil until it forms a rough paste. Season with salt and pepper and set aside.
Cook spaghetti according to package directions, in salted water. Reserve ⅓ cup (75 ml) pasta cooking water.
Meanwhile, in a large frying pan over medium heat, sauté prawns in remaining 2 tbsp (30 ml) olive oil for 1 to 2 minutes per side, or until pink and opaque.
Drain spaghetti and add it to pan with prawns, along with pesto and reserved pasta water. Toss to coat and check seasoning, adjusting if necessary. Serve immediately, garnishing with basil, pine nuts and Parmesan.
Drink Pairings