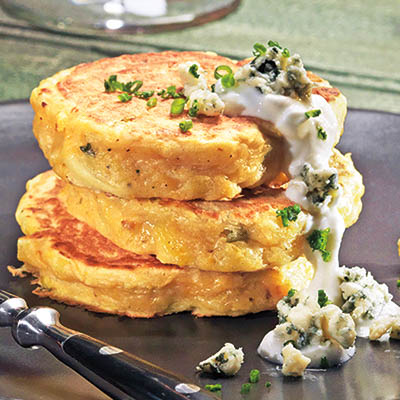 SPAGHETTI SQUASH FRITTERS WITH STILTON AND YOGURT
Ingredients
Serves 4
1 leek, halved, washed and thinly sliced
3 tbsp (45 ml) extra-virgin olive oil, divided
6 sprigs fresh thyme, finely chopped
⅓ cup (75 ml) all-purpose flour
½ tsp (2 ml) freshly ground black pepper
½ cup (125 ml) plain Greek yogurt
¼ cup (60 ml) crumbled Stilton cheese
2 tbsp (30 ml) finely chopped fresh chives, for garnish
Instructions
To cook spaghetti squash, preheat oven to 375 F (190 C). Cut squash in half lengthwise and scoop out seeds. Place cut- side down on a parchment-lined baking sheet or roasting pan and cover with foil. Bake for 45 minutes to 1 hour, or until squash is tender. Cool. Once cool enough to handle, gently scrape out strands of squash with a fork. Gently pat squash strands dry, removing as much excess liquid as possible. Measure out 3 cups (750 ml) refrigerating any extra for another use.
Heat 1 tbsp (15ml) oil in a small frying pan over medium heat. Add leek and thyme and sauté until leek is translucent. Remove pan from heat and let cool slightly.
In a medium-sized bowl combine 3 cups (750 ml) cooked squash, leeks and eggs. Add flour, salt, pepper and lemon zest and mix until combined.
Heat remaining 2 tbsp (30 ml) oil in a large frying pan until medium hot. To fry fritters, drop tablespoonsful of batter into hot pan allowing space in between. Cook until bottom of each fritter is golden brown, about 1 to 2 minutes. Flip and cook until other side is golden brown. Serve with yogurt, Stilton and chives.
Drink Pairings