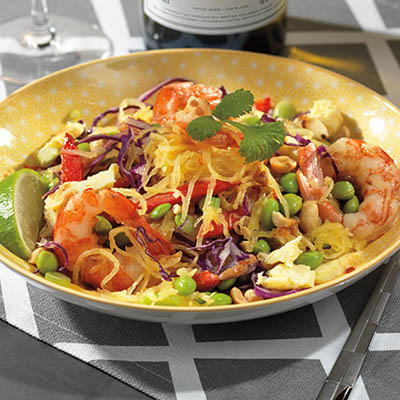 SPAGHETTI SQUASH PAD THAI
Ingredients
Serves 6 to 8
2 tbsp (30 ml) freshly squeezed lime juice
2 tbsp (30 ml) seasoned rice vinegar
1 tbsp (15 ml) smooth almond butter
1 tbsp (15 ml) fish sauce or tamari soy sauce
2 tsp (10 ml) liquid honey
½ tsp (2 ml) crushed dried chillies, plus extra if desired
salt and freshly ground black pepper, to taste
1 medium-sized spaghetti squash
2 tsp (10 ml) unsalted butter
1 tbsp (15 ml) grape seed oil
2 garlic cloves, smashed and minced
1 tbsp (15 ml) peeled and grated fresh ginger
1 red bell pepper, cored and cut into thin julienne strips
1 cup (250 ml) shelled edamame beans
½ lb (250 g) black tiger prawns, peeled, deveined, tail on (optional)
1 cup (250 ml) very thinly shaved red cabbage
4 whole green onions, julienned
¼ cup (50 ml) chopped unsalted peanuts, roasted
cilantro sprigs, for garnish
Instructions
In a small bowl, combine all SAUCE ingredients. Whisk to blend. Add a little chicken broth or water, if needed, for a thinner consistency. Add salt and pepper to taste. Set aside.
To make PAD THAI: Cut squash in half and scrape out seeds. Place squash, cut-side down, in a microwave-safe dish and fill with 1-in (2.5 cm) water. Microwave uncovered on high for about 10 minutes, or until squash is soft when pressed. Depending on the size of your microwave, you may need to cook ½ a squash at a time. Remove squash and set aside until cool enough to handle. Then scrape out strands into a large bowl using a fork. Set aside.
Heat butter in a very large frying pan or wok with deep sides. Add eggs and scramble over medium heat just until cooked. Remove to a separate dish and set aside.
Clean pan and add oil. Add garlic and ginger and gently sauté for 1 minute over medium heat. Add red pepper, edamame beans and prawns, if using, and stir-fry over medium-high heat for another minute or two, or just until prawns are turning opaque. Fold in spaghetti squash and drizzle with sauce. Toss over medium heat for a minute or two until warmed. Fold in red cabbage, green onions and scrambled egg. Transfer to a heated serving bowl or platter. Sprinkle with peanuts and garnish with cilantro.
Drink Pairings