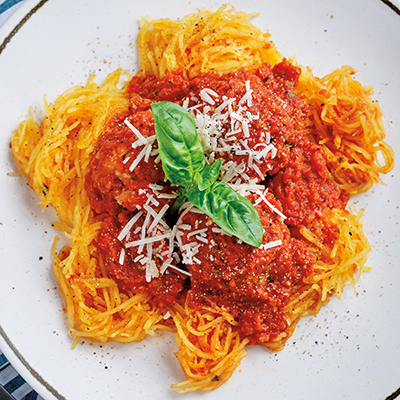 SPAGHETTI SQUASH WITH TURKEY MEATBALLS
Ingredients
Serves 4
2 tbsp (30 ml) olive oil, divided
salt and pepper, to taste
cooking spray, for greasing
Tomato Sauce, recipe follows
½ large yellow onion, diced
1 lb (500 g) ground turkey
½ cup (125 ml) panko crumbs
1 cup (250 ml) + ½ cup (125 ml) grated Parmigiano-Reggiano, divided
½ cup (125 ml) chopped parsley
¼ cup (60 ml) chopped + ½ cup (125 ml) whole fresh basil leaves, divided
½ tsp (2.5 ml) chili flakes
Instructions
Preheat oven to 400 F (200 C).
Line a baking sheet with parchment paper. Cut spaghetti squash in half lengthwise and scoop out seeds. Drizzle 1 tbsp (15 ml) olive oil over squash and season with salt and pepper. Place cut-side down on lined baking sheet and poke each half a couple times all over with a fork. Roast for 30 to 40 minutes, until squash shreds easily with a fork. Allow to cool enough to handle and with a fork, working from outside in, scrape out long strands of squash from each half. Set aside until ready to use.
Meanwhile, make Tomato Sauce.
Place a wire rack over a baking sheet and grease with cooking spray.
In a medium skillet, heat remaining 1 tbsp (15 ml) oil over medium-high heat. Sauté onion and garlic for 2 to 5 minutes, until soft. Remove from heat and allow to cool.
In a large bowl, combine turkey, panko, 1 cup (250 ml) Parmesan, egg, parsley, ¼ cup (60 ml) chopped basil, paprika and chili flakes. Add onion and garlic mixture and season with salt and pepper. With clean hands or a wooden spoon, thoroughly mix ingredients together. Roll into 10 to 12 golf ball-sized meatballs and place on greased wire rack. Bake for 20 minutes, or until internal temperature reaches 165 F (74 C).
Reheat spaghetti squash and Tomato Sauce, if needed, and top squash with meatballs and sauce. Garnish with remaining ½ cup (125 ml) whole fresh basil leaves and ½ cup (125 ml) Parmesan.
Drink Pairings