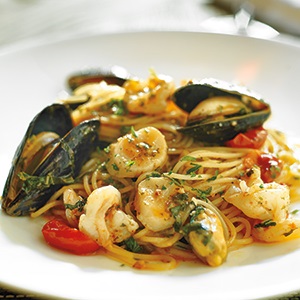 SPAGHETTINI AL FRUTTI DI MARE
Ingredients
Serves 2
4 each, black mussels, clams, large scallops and large prawns
1 tbsp (15 ml) extra-virgin olive oil
1 fresh chili pepper or splash chili oil to taste
1 sprig fresh parsley, finely chopped
2 garlic cloves, finely chopped
½ cup (125 ml) dry white wine
6 to 8 small cherry tomatoes, halved
salt and freshly ground black pepper, to taste
Instructions
Be sure mussels and clams are fresh, unopened and not chipped. Scrub away any sand and dirt under cold running water. Pull off any beards from mussels. Place in a large bowl.
Rinse scallops and remove any tough mussels that might still be intact and discard. Pat mussels dry and add to bowl with clams. Peel and devein prawns, rinse and pat dry. Add to bowl with shellfish. Score or slice squid and add.
Add spaghettini to a large saucepan of boiling salted water and cook over mediumhigh heat for 10 minutes or until al dente.
While spaghettini is boiling, combine butter and olive oil in a large heavy-bottomed frying pan. Warm over medium heat.
Add seafood and remaining ingredients (except for cherry tomatoes) and saute for 3 to 4 minutes. Clams and mussels will open and wine will evaporate. Then add cherry tomatoes and simmer for another 3 to four minutes. Remove from heat.
Drain spaghettini thoroughly when done. Add to shellfish in frying pan. Toss together to evenly blend. Add salt and pepper to taste. Divide on 2 heated pasta bowls and drizzle with additional chili oil, if using.
Drink Pairings