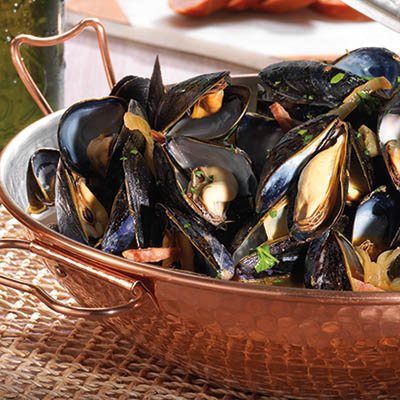 Ingredients
Serves 4
1 tsp (5 ml) extra-virgin olive oil
1 link dry, cured chorizo sausage, sliced
½ small yellow onion, thinly sliced
1 garlic clove, peeled and crushed
½ tsp (2 ml) smoked Spanish paprika
4 lbs (2 kg) mussels, scrubbed and debearded discarding any that remain open when tapped
1 bottle (355 ml) Alhambra beer
salt and freshly ground pepper, to taste
3 sprigs flat-leaf parsley, leaves picked off and roughly chopped
Patatas Bravas, to serve (optional)
¼ red onion, finely chopped
1 tbsp (15 ml) sweet Spanish paprika
¼ tsp (1 ml) cayenne pepper (optional)
1 x 398 ml can whole plum tomatoes, chopped
1 tsp (5 ml) granulated sugar
2 lbs (1 kg) baby Yukon Gold potatoes, scrubbed and halved
salt and freshly ground pepper, to taste
Instructions
If serving, prepare Patatas Bravas (recipe follows) and set aside to keep warm.
To make SPANISH MUSSELS: In a large heavy saucepan combine olive oil and chorizo and cook on medium heat until chorizo is crisp. Remove with a slotted spoon.
Sweat onion and garlic in chorizo oil until onions are translucent. Add smoked paprika, cinnamon stick and orange zest. Add mussels and beer and cover with a tight-fitting lid. Cook for 6 to 7 minutes, or until all mussels have opened. Discard any mussels that remain closed.
Taste broth and adjust seasoning with salt and pepper, if needed. Stir in chopped parsley. Serve in a large serving bowl with Patatas Bravas.
To make PATATAS BRAVAS: Make SPICY TOMATO SAUCE: Heat olive oil in a saucepan over medium heat. Sweat onion and garlic in oil until onion is translucent.
Add paprika and cayenne pepper and cook lightly until fragrant.
Add tomatoes, bay leaf, salt and sugar. Cook uncovered for about 20 minutes, stirring occasionally. Add some water if sauce reduces too much and starts to stick.
Remove bay leaf and purée sauce with an immersion blender, or in a regular blender until smooth. Cover and set aside.
Preheat oven to 375 F (190 C). Place potatoes in a large saucepan and cover with cold water. Add salt and bring to a boil. Reduce heat to medium and simmer until potatoes are tender, about 15 minutes. Drain thoroughly and set aside.
Place olive oil in a large roasting pan and heat in oven. When oil is hot, add potatoes and toss quickly to coat with oil. Season with salt and pepper to taste. It's fine if potatoes break apart around edges, as this will make them extra crispy.
Return pan to oven and roast potatoes until crisp and golden all over. Remove with a slotted spoon to a paper towel-lined plate to drain. To serve, cover potatoes with Spicy Tomato Sauce and dollops of mayonnaise.
Drink Pairings