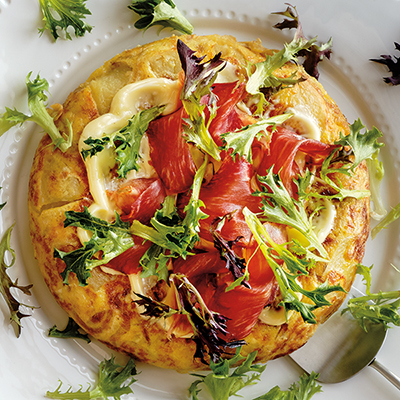 Spanish Omelette with Serrano Ham
Ingredients
Serves 4 to 6
½ cup (125 ml) extra-virgin olive oil
1 medium onion, thinly sliced
2 medium yellow potatoes, peeled and thinly sliced
1 tsp (5 ml) kosher salt, or to taste
3 tbsp (45 ml) store-bought or homemade aioli (garlic mayonnaise)
3½ oz (100 g) Serrano ham
Instructions
In a large nonstick frying pan, heat oil over medium heat. Add onion and cook for about 2 minutes, until just softened. Add potatoes and stir gently. Allow to cook, tossing occasionally, for about 15 to 20 minutes, or until onions are slightly caramelized and potatoes are cooked through.
Drain off oil, reserving 1 tbsp (15 ml) for use in step 3, (remainder can be discarded or kept in refrigerator for the next time you make a Spanish Omelette) and transfer potatoes and onion to a medium bowl. Allow to cool for about 5 minutes, then add eggs, salt and pepper and stir to combine. Cover and allow to sit for about 15 minutes. Mixture will thicken up as eggs are absorbed.
Heat 1 tbsp (15 ml) reserved cooking oil in a 6-in (15 cm) nonstick frying pan over high heat and add egg mixture. Cook for 1 minute, then reduce heat to low and cook for 3 more minutes. Loosen sides of omelette with a silicone spatula, then place a large plate upside down on top of pan. Carefully flip pan over plate and tip out omelette, then slide it back into pan and cook for 1 minute on high and another 3 to 4 minutes on low, or until golden and cooked through.
Turn out omelette onto a serving board or plate. Spread aioli on top and top with Serrano ham and greens. Cut into wedges to serve.
Drink Pairings