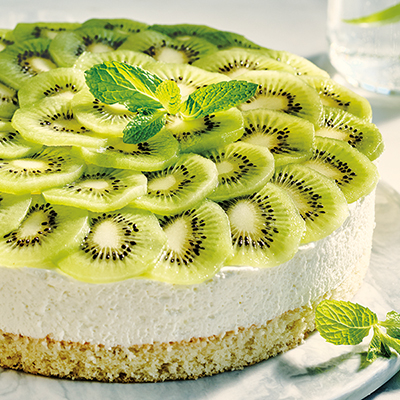 Ingredients
Serves 10 to 12
cooking spray or vegetable oil, for greasing
½ cup + 2 tbsp (155 ml) all-purpose flour
2 tbsp (30 ml) cornstarch
1 tsp (5 ml) baking powder
2 large egg whites, room temperature
⅓ cup (75 ml) dry sparkling wine
1 tsp (5 ml) vanilla extract
¼ cup + 2 tbsp (90 ml) unsalted butter, room temperature
½ cup + 3½ tbsp (177 ml) granulated sugar, divided
1¼ cup (310 ml) whipping cream
¾ cup (175 ml) plain Greek yogurt
Instructions
Preheat oven to 350 F (180 C). Grease a 9-in (23 cm) round cake pan with cooking spray or vegetable oil, then line bottom with a round of parchment paper. Set aside.
In a medium bowl, whisk together flour, cornstarch, baking powder and salt. Set aside.
In another medium bowl, whisk together egg whites, sparkling wine and vanilla. Set aside.
In bowl of a stand mixer fitted with paddle attachment, cream butter and ½ cup + 2½ tbsp (162 ml) sugar on medium speed until light and fluffy, about 3 minutes, scraping down sides of bowl occasionally to ensure mixture is properly combined. On low speed, alternately add flour mixture in thirds and egg mixture in halves, beginning and ending with flour mixture. Pour batter into prepared cake pan and bake until sides of cake start to release from pan and a wooden skewer inserted in middle of cake comes out clean, about 25 to 30 minutes. Cool in pan on a wire rack for 30 minutes, then turn cake out onto wire rack and allow to cool completely.
In cleaned bowl of stand mixer fitted with whisk attachment, whisk together cream and remaining 1 tbsp (15 ml) sugar until soft peaks form. Add yogurt and whip until stiff peaks form.
Line an 8-in (20 cm) round cake ring or springform pan with a collar of acetate about 3-in (8 cm) high and secured with a small piece of tape on outside of acetate. If using cake ring, place acetate-lined cake ring on a plate or platter. Trim cooled cake to an 8-in (20 cm) round to fit snugly inside acetate ring. (Discard or snack on cake scraps.) Place cake inside acetate and lightly press into place to create bottom layer. Peel and thinly slice 3 to 4 kiwis. Arrange kiwi slices in concentric circles over cake, overlapping each piece slightly, leaving a ½-in (1.25 cm) border uncovered around edge. Dollop or pipe yogurt mixture over kiwi and level with a small offset spatula or spoon. Refrigerate cake for 4 hours, until set.
When ready to serve, unmould cake and remove acetate. Peel and thinly slice remaining kiwis and arrange in concentric circles over top of entire cake, overlapping each piece of kiwi slightly. Slice and serve. Any leftovers may be refrigerated for up to 3 days.
Drink Pairings