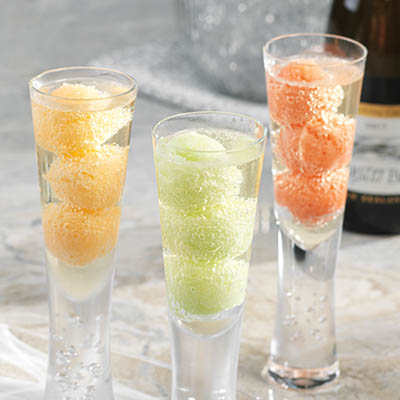 SPARKLING WINE AND MELON SORBET
Ingredients
Serves 6
1½ cups (375 ml) sweet sparkling wine or Prosecco
1 cup (250 ml) granulated sugar
1 tbsp (15 ml) light corn syrup
½ medium cantaloupe, small watermelon or honeydew melon, seeded, skinned and cut into chunks
1 tbsp (15 ml) fresh lemon juice
Instructions
In a medium-sized saucepan over medium-high heat, bring sparkling wine, sugar and corn syrup to a boil. Reduce heat to medium and, stirring often, cook mixture for 4 minutes, making sure sugar has dissolved before removing from heat and setting aside to cool to room temperature.
Meanwhile, in a blender, purée melon of choice and lemon juice together until smooth. Measure out 1¾ cups (425 ml) purée and reserve any remaining purée for another use.
In a bowl, whisk together champagne mixture with melon purée until well combined. Pour mixture into a resealable freezer bag and freeze until frozen, about 8 hours or preferably overnight.
Break up frozen mixture and pulse in a food processor fitted with steel blade attachment until smooth. Transfer to an airtight container and freeze at least 2 to 3 hours before serving. Sorbet may be kept frozen for up to 5 days. Serve in a champagne glass with a fresh pouring of sparkling wine or Prosecco.
Drink Pairings