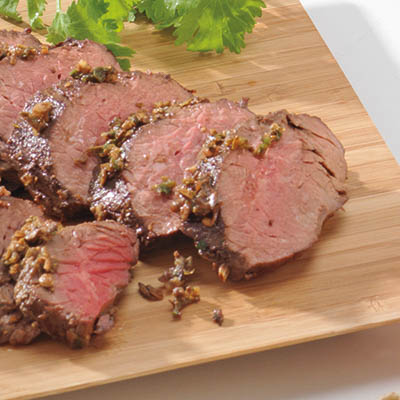 SPICE-CRUSTED HANGER STEAK
Ingredients
Serves filling for about 12 tacos
2 tbsp (30 ml) coriander seeds
2 tbsp (30 ml) fennel seeds
2 tsp (10 ml) cumin seeds
2 tbsp (30 ml) light brown sugar
1 large shallot, finely chopped
2 tbsp (30 ml) minced jalapeño pepper or Fresno chili
2 tbsp (30 ml) finely chopped cilantro
3 lbs (1.5 kg) hanger steak
kosher salt and ground black pepper, to taste
Instructions
In a dry frying pan, lightly toast coriander seeds, fennel seeds and cumin seeds until fragrant over medium heat. Transfer to a mortar and pestle or a spice grinder and roughly grind. Transfer to a medium bowl and allow to cool to room temperature.
To spice mixture, add brown sugar, shallots, chili, cilantro and garlic stirring to combine. Rub mixture all over hanger steak and set aside.
Preheat grill over medium-high heat.
Lightly oil grill and season hanger steak with salt and pepper. Grill to medium rare, about 5 to 7 minutes per side, or until desired doneness is achieved. Transfer steak to a cutting board and allow to rest for 10 to 15 minutes. Thinly slice against the grain before serving.
Drink Pairings