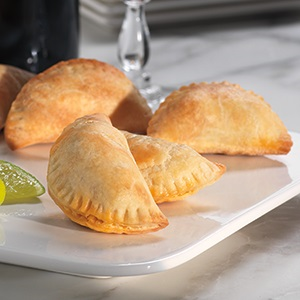 Ingredients
Serves 24
2¼ cups (560 ml) all-purpose flour, plus extra for dusting
1 tsp (5 ml) fine sea salt, plus extra to taste
½ cup (125 ml) cold unsalted butter, cut into cubes
1 small yellow onion, minced
⅓ cup (75 ml) golden raisins
2 tbsp (30 ml) tomato paste
1 tbsp (15 ml) apple cider vinegar
¼ tsp (1 ml) each, ground cinnamon and smoked paprika
½ tsp (2 ml) each, dried oregano and crushed red pepper flakes
½ cup (125 ml) sour cream
1 tbsp (15 ml) fresh chopped cilantro
Instructions
In a large bowl, sift together flour and salt. Add butter and incorporate with fingertips or pastry blender until mixture resembles a coarse meal with pea-sized lumps of butter.
In a small bowl, whisk together 1 egg, water and vodka. Add to flour mixture and stir with a fork until a shaggy mixture forms. Turn out onto a clean work surface and knead once or twice to bring dough together. Wrap in plastic wrap and chill for 1 hour.
Meanwhile, make filling. Heat oil in a large frying pan over medium heat. Add onion and cook, stirring occasionally, until softened but not browned, about 5 minutes. Add garlic and beef and cook, breaking up meat with a spoon, until no longer pink. Stir in raisins, tomato paste, vinegar, cinnamon, paprika, oregano, red pepper flakes and a good pinch of salt. Remove from heat and allow filling to cool to room temperature.
Lightly dust work surface with flour and roll out chilled dough to ¼-in (0.5 cm) thickness. Using a 3¼-in (8 cm) round cookie cutter, cut out circles. Re-roll dough as needed until you have 24 circles. Divide beef mixture among circles, brush edges with water, fold in half to create half-moons and press edges with a fork to seal. At this point, empanadas may be placed on a parchment-lined baking sheet and frozen until solid, about 1 hour, before transferring to an airtight container. Can be frozen for up to 5 weeks.
When ready to serve, preheat oven to 375F (190 C). In a small bowl, whisk remaining egg. Place empanadas on a parchment-lined baking sheet and brush with egg. Bake until golden brown, about 25 to 30 minutes, or 40 to 50 minutes if baking from frozen.
Meanwhile, in a small bowl, stir together sour cream, lime zest, lime juice and cilantro to blend. Transfer to a serving bowl.
Serve empanadas while still warm on a platter with lime cream alongside.
Drink Pairings