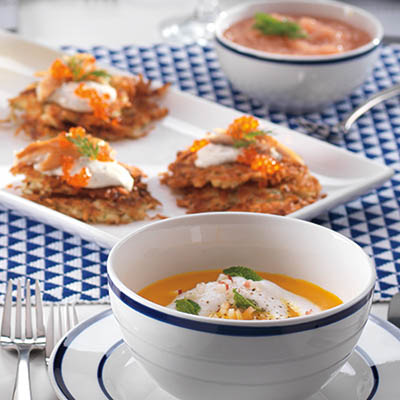 Ingredients
Serves 6 to 8
2 tbsp (30 ml) grapeseed oil
1¼ lbs (625 g) carrots, peeled and chopped
3¾ cups (925 ml) low sodium chicken stock or vegetable stock
1 cup (250 ml) peeled and diced Spartan apples, plus an extra half apple, finely diced, for garnish
2 tsp (10 ml) freshly grated ginger
½ cup (125 ml) apple cider or apple juice
¼ tsp (1 ml) ground allspice
1 cup (250 ml) Almond Milk, to garnish
1 cup (250 ml) raw almonds
2½ cups (625 ml) water, plus extra for soaking
Instructions
In large saucepan, heat oil over mediumhigh heat. Add onion and sauté until translucent. Stir in carrots, broth, apples and ginger and bring to a boil. Cover, reduce heat to low and allow soup to simmer until carrots are tender. Purée in batches in a blender before returning to saucepan. Whisk in apple cider and allspice. Season with salt to taste. Set aside and keep warm.
In a small saucepan, warm 1 cup (250 ml) Almond Milk until steaming and remove from heat. Using a milk frother, froth until foamy and doubled in volume. To serve, garnish with a dollop of almond foam. Top with diced apples and freshly torn mint and serve immediately.
To make ALMOND MILK: Place almonds in a lidded container and cover with water, refrigerate overnight. Drain and rinse almonds well before placing in a blender. Add water and blend until almonds have been finely broken down and liquid appears milky. Line a fine mesh strainer with cheesecloth, and place over a large bowl. Gather up cheesecloth to squeeze out excess liquid. Refrigerate until ready to use. Can keep up to 2 days.
Drink Pairings