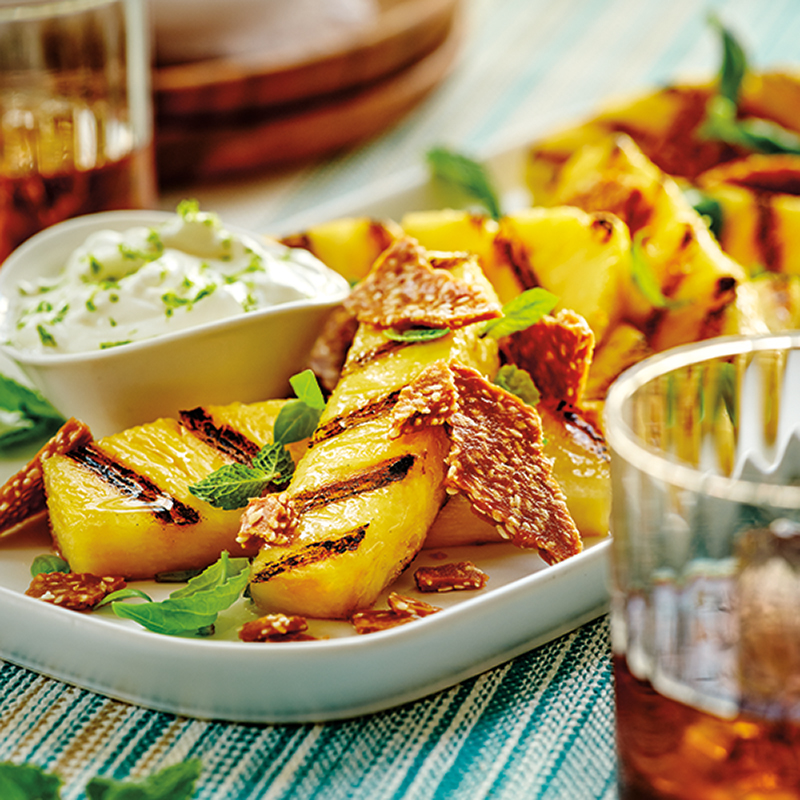 Spiced Grilled Pineapple with Maple Sesame Brittle
Ingredients
Serves 6
1 tbsp + 1 tsp (15 + 5 ml) maple syrup, divided
½ cup (125 ml) granulated sugar
7 tbsp (105 ml) unsalted butter
1 tbsp + 1 tsp (20 ml) water
1/3 cup (75 ml) sesame seeds
½ tsp (2.5 ml) flaky sea salt
¼ cup (60 ml) maple syrup
¼ tsp (1 ml) freshly grated ginger
vegetable oil, for brushing grills
small fresh mint and basil leaves, for garnish
1 cup (250 ml) whole milk plain yogurt, for serving
Instructions
To make Maple Sesame Brittle, line a baking tray with parchment and set aside. In a medium, heavy-bottomed saucepan, add 1 tbsp + 1 tsp (20 ml) maple syrup, sugar, butter and water. Cook over medium-high heat, stirring until sugar has melted. Stop stirring and let mixture come to a hard simmer. Reduce heat to medium and cook, stirring occasionally, until mixture reaches 300 F (150 C). Stir in sesame seeds and salt then pour onto parchment-lined baking tray. Using a heatproof spatula, spread out in a thin layer. Set aside to let cool and harden.
While brittle cools, prepare Spiced Grilled Pineapple. In a large bowl, whisk together ¼ cup (60 ml) maple syrup, ginger, juice from 2 limes and zest from 1 lime. (Set aside zest of second lime for serving). Top and tail pineapple and cut away rind, then quarter, core and cut into 1-in (2.5 cm) wide wedges. Add to bowl, toss to coat in maple syrup mixture and set aside to marinate for at least 30 minutes.
While pineapples marinate, preheat grill to medium-high heat. Lightly oil grill. Add marinated pineapple spears and grill, turning occasionally, until grill-marked and warmed through, about 4 to 6 minutes total.
To serve, arrange Spiced Grilled Pineapple spears on a serving platter and garnish with mint, basil and shards of Maple Sesame Brittle. Serve alongside a bowl of yogurt sprinkled with lime zest.
Drink Pairings