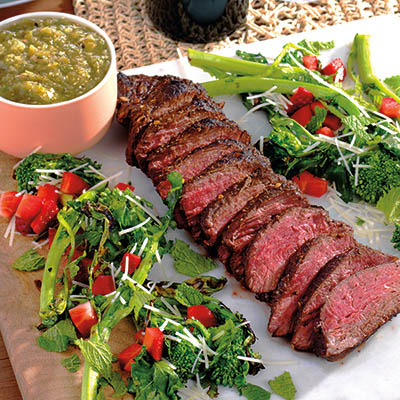 SPICED STEAK SERVED WITH GRILLED RAPINI SALAD AND SALSA VERDE
Ingredients
Serves 4
1 tbsp (15 ml) chili powder
1 tsp (5 ml) ground cumin
½ tsp (2 ml) red pepper chili flakes
2 large garlic gloves, minced and mashed with 1 tsp (2 ml) sea salt
2 tsp (10 ml) Worcestershire sauce
1 tbsp (15 ml) vegetable oil
2 lb (1 kg) hangar or skirt steak, trimmed
1 bunch rapini, ends trimmed, blanched and drained
3 tbsp (45 ml) balsamic vinegar
2 tsp (10 ml) kosher salt
1 cup (250 ml) ½-in (1.25 cm) diced strawberries
ripped mint leaves, about a handful
¼ cup (60 ml) grated Parmesan
1 lb (500 g) tomatillos, about 10 to 12, husk removed, and rinsed
2 jalapeño or 4 serrano peppers, stemmed
1 bunch fresh cilantro, roughly chopped
½ cup (125 ml) finely chopped white onion
Instructions
In a small bowl, mix together all ingredients, up to steak, until well blended. Rub all over meat and marinate in a resealable plastic bag; refrigerate for at least 30 minutes or up to 1 day.
Grill steak on a well-oiled rack set about 4-in (10 cm) over hot coals or a medium-high heat barbecue, or in a hot, well-seasoned ridged grill pan over medium-high heat, 3 to 5 minutes on each side, or until just springy to touch, for medium-rare. Allow steak to rest on a cutting board 5 minutes and cut across the grain on the diagonal into thin slices.
Serve with Grilled Rapini Salad and Salsa Verde.
To make GRILLED RAPINI SALAD: Preheat grill to medium. Add rapini and grill, turning once, until slightly charred, remove and place in a mixing bowl.
Mix together olive oil, balsamic vinegar, salt, pepper and garlic. Drizzle over rapini until well covered. Garnish with strawberries, mint leaves and Parmesan.
To make SALSA VERDE: Preheat broiler. Roast the tomatillos and chilies on a baking sheet 4-in (10 cm) below the preheated broiler until they have dark spots and are blackened, about 5 minutes. Flip over and roast other side, 4 to 5 minutes.
Add roasted tomatillos, chilies and remaining ingredients, except onions, into a food processor. Blend to a coarse purée. Transfer to serving bowl and mix in onion. Season with salt and pepper. Makes about 1½ cups (625 ml).
Drink Pairings