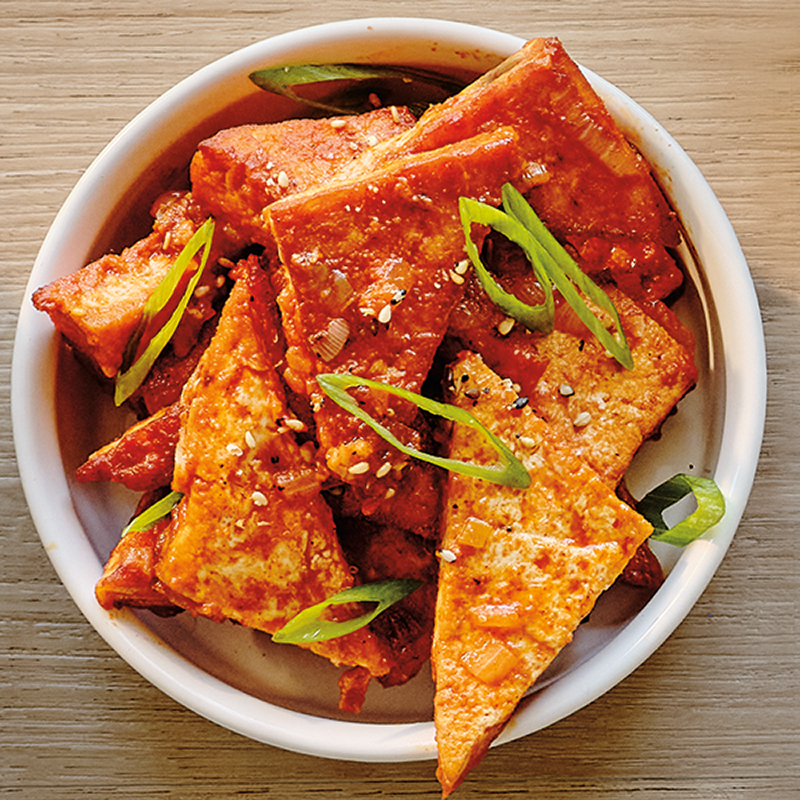 Spicy Braised Tofu
Korean Barbecue is a communal meal. All the items are laid out on the table with a portable grill in the middle. The meal consists of lots of small side dishes.
Ingredients
Serves 4-6
1 x 16 oz (500 g) block medium tofu
1 to 2 tbsp (15 to 30 ml) vegetable oil
1 small onion, finely chopped
1 tsp (5 ml) gochujang (Korean chili paste)
2 tsp (10 ml) gochugaru (Korean chili powder)
1 pinch salt, or to taste
1 tsp (5 ml) toasted sesame oil
2 tsp (10 ml) toasted sesame seeds
green onion, sliced, for garnish
Instructions
Slice tofu block into 1-in (2.5 cm) thick slices. Then cut each slice in half so you have 2 squares. Then cut each square in half on the diagonal into triangles. Line a sheet pan with triple layer of paper towel. Place tofu in a single layer on paper towel and cover with 3 more layers of paper towel. Lay another sheet pan on top of paper towel to lightly press tofu. Let sit for 10 minutes.
In a large non-stick skillet, heat oil over medium heat. Fry tofu in batches until golden brown, turning halfway through, about 3 minutes per side. Set fried tofu aside on paper towel to absorb excess oil.
With remaining oil, sweat garlic and onion in skillet. Add soy sauce, sugar, gochujang, gochugaru, salt and water to combine, and add back tofu. Simmer, covered, over low heat for 10 minutes.
Add sesame oil and sesame seeds. Stir to combine. Garnish with sliced green onion and serve warm.
Drink Pairings