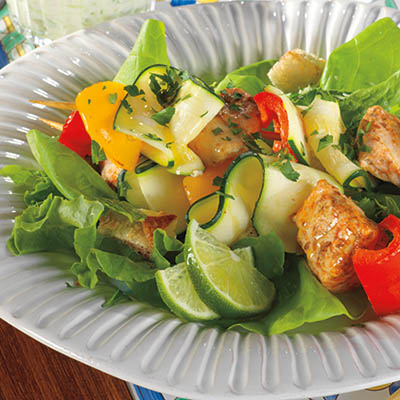 SPICY CHICKEN SKEWERS WITH COOL CUCUMBER YOGURT
Ingredients
Serves 4
½ English cucumber, unpeeled and seeded
1 cup (250 ml) plain Greek yogurt
1 garlic clove, smashed and minced
2 tbsp (30 ml) extra-virgin olive oil
1 tbsp (15 ml) white wine vinegar
½ tsp (2 ml) ground cumin
2 thick slices sourdough bread
¼ tsp (1 ml) sumac powder
salt and freshly ground black pepper
2 large boneless, skinless chicken breasts, about 1 lb (500 g) each
1 large red bell pepper, cored and seeded
1 large yellow bell pepper, cored and seeded
1 tsp (5 ml) ground cumin
1 tsp (5 ml) smoked hot paprika
8 wooden 8-in (20 cm) skewers, soaked
1 x 8-in (20 cm) large zucchini, shaved lengthwise into 16 ribbons
extra-virgin olive oil, to finish
fresh lime juice, optional, to finish
1 head Bibb or curly leaf lettuce
½ cup (125 ml) lightly packed mint
½ cup (125 ml) lightly packed cilantro
¼ cup (60 ml) chopped flat leaf parsley
Instructions
Prepare COOL CUCUMBER YOGURT ahead of time: Grate unpeeled, seeded cucumber and place in a sieve over a bowl. Refrigerate overnight.
In a bowl, combine remaining Cool Cucumber Yogurt ingredients and stir together. Cover and refrigerate overnight.
Combine reserved drained cucumber and yogurt mixture and fold together. Refrigerate until ready to use.
For CROUTONS: Preheat oven to 400 F (200 C). Brush bread with 1 tbsp (15 ml) olive oil on both sides. Dust with sumac powder, salt and pepper. Cut bread into 1-in (2.5 cm) cubes. Spread on parchment-lined baking sheet and bake in oven for 5 to 8 minutes or until golden and crisp. Stir often. Remove and cool. Leave oven temperature at 400 F (200 C).
Cut chicken into about 16 x 1-in (2.5 cm) chunks. Cut each bell pepper into 12 x 1-in (2.5 cm) chunks. Place chicken and peppers in large bowl and toss with 1 tbsp (15 ml) olive oil and lime juice.
In a small bowl, combine cumin, paprika and salt and stir together. Sprinkle over chicken and peppers and toss lightly to coat.
Spread out on parchment-lined baking sheet and bake in preheated oven for 5 to 7 minutes, or just until chicken chunks are almost cooked through. Stir a couple of times. Remove from oven.
Meanwhile, make SALAD: Separate lettuce into leaves, wash and blot dry. Place a couple leaves on each serving plate and scatter bread cubes over top along with mint, cilantro and parsley, reserving some herbs for top.
When chicken is cool enough to handle, thread each soaked wooden skewer with 2 pieces of chicken, 2 ribbons of zucchini and 3 chunks of pepper, alternating ingredients. Lay skewers a in single layer on baking sheet and return to oven for 3 to 5 more minutes or until chicken is fully cooked and vegetables are done but still crisp.
Place a couple chicken skewers on top of each salad plate and season with salt, scattering remaining fresh herbs over top. Drizzle with a splash of olive oil and a little more fresh lime juice if desired. Serve with Cool Cucumber Yogurt.
Drink Pairings