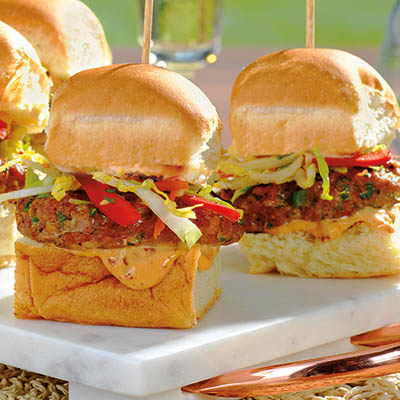 SPICY CHICKEN SLIDERS WITH ASIAN SLAW
Ingredients
Serves 10 to 12 sliders
2 tbsp (30 ml) vegetable oil
1 medium onion, finely chopped
1 tbsp (15 ml) chili powder
1 tbsp (15 ml) chili garlic sauce
1 tsp (5 ml) ground cumin
1½ lb (750 g) ground chicken or turkey
½ jalapeño pepper, seeded and finely minced
½ cup (125 ml) finely chopped cilantro
8 to 12 small slider buns or small soft rolls, sliced, depending on size of patties
1 cup (250 ml) mayonnaise
2 tbsp (30 ml) adobo sauce
1 to 2 chipotle chilies, to taste, finely minced
2 tsp (10 ml) lime juice (optional)
2 tbsp (30 ml) finely chopped ginger
¼ cup (60 ml) rice vinegar
¼ cup (60 ml) peanut butter or tahini
½ head Napa cabbage, finely shredded
1 serrano chili, seeded and finely minced
1 small carrot, peeled and finely grated
½ red pepper, finely julienned
2 green onions, finely sliced
2 tbsp (30 ml) chopped cilantro
2 tbsp (30 ml) chopped mint
Instructions
Heat a medium-sized skillet over medium heat. Add oil, onion and garlic, sauté 4 to 5 minutes until soft and translucent. Set aside to cool.
In a large bowl, mix together chili powder, chili garlic sauce, cayenne, cumin, salt and pepper. Add over ground chicken to bowl and mix in along with egg, jalapeño and cilantro until well blended. Shape into 8 patties.
Preheat grill to medium and lightly oil the rack. Add patties and grill until brown and juices run clear, about 3 minutes per side. Remove from grill and keep warm in oven until ready to assemble.
Toast buns lightly on grill. Spread Spicy Chipotle Mayo on top and bottom of toasted bun. Place chicken patties on buns and top with a small amount of Asian Slaw. Serve immediately.
To make SPICY CHIPOTLE MAYO: Mix all ingredients until well blended. Cover and refrigerate until chilled. Makes about 1 cup (250 ml).
To make ASIAN SLAW: In a small bowl, whisk together ginger, rice vinegar, soy sauce, lime juice and peanut butter until blended. Add remaining ingredients and toss until mixed well. Refrigerate until ready to use. Makes about 4 cups (1 L).
Drink Pairings