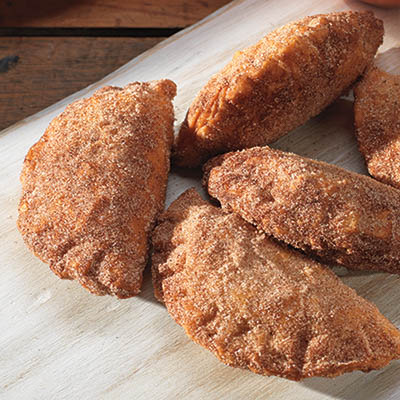 SPICY FRIED PEACH HAND-HELD PIES
Ingredients
Serves 8
2 cups (500 ml) all-purpose flour
2 tsp (10 ml) baking powder
4 tbsp (60 ml) shortening
4 tbsp (60 ml) cold unsalted butter
½ cup (125 ml) cold buttermilk
1 egg, whisked, to finish
canola oil, for frying, to finish
3 or 4 large firm, fresh peaches, peeled, pitted and chopped
¼ cup (60 ml) packed light brown sugar
1 tsp (5 ml) fresh lemon juice
½ tsp (2 ml) ground allspice
2 tbsp (30 ml) hot red pepper jelly
1 tbsp (15 ml) unsalted butter
1 tbsp (15 ml) cornstarch
3 tbsp (45 ml) finely minced candied ginger
½ cup (125 ml) granulated sugar
Instructions
To make PASTRY: In a food processor with a metal blade, combine flour, baking powder and salt. Whirl to blend. Add shortening and butter and pulse just until coarse crumbs. Gradually whirl in just enough buttermilk until dough holds together. Do not over-process. Turn pastry out onto a clean work surface and gather it together. Flatten slightly into a large disk. Tightly seal in plastic wrap and refrigerate for 2 hours or preferably overnight. Can be refrigerated for several days.
To make FILLING: In a large bowl combine peaches, brown sugar, lemon juice, allspice and salt. Toss to mix and let sit for about 30 minutes. Place peach mixture into a colander and drain liquid into a small saucepan. Reserve peaches. Add pepper jelly and butter to liquid. Cook over medium-low heat until reduced to 2 tbsp (30 ml). Remove and cool for about 10 minutes. In a bowl, toss reserved peaches with cornstarch. Depending on their ripeness you may need to add a little more cornstarch. Drizzle reduced cooled liquid over peaches along with candied ginger and gently toss together. Set aside.
To make pies, on a lightly floured surface, using a floured rolling pin, roll dough about ⅛-in (3 mm) thick. It should be large enough to cut out 8 circles to about 7-in (18 cm) in diameter. Loosen dough a few times dusting a little more flour underneath so dough doesn't stick. Cut out as many circles as you can and if necessary, gather up scraps and reroll once.
Spoon about 2 to 3 tbsp (30 to 45 ml) cooled peach mixture onto one half of dough round, leaving at least ½-in (1.25 cm) rim. Brush outer edges with whisked egg. Fold dough over and seal with fingers or tines of a fork. Remove to a baking sheet and repeat with remaining dough and filling. Cover and refrigerate up to 1 hour or overnight.
To fry, fill a 10 x 2-in (25 x 5 cm) Dutch oven or deep fryer with canola oil about 2-in (5 cm) deep. Heat to 375 F (190 C). Place a wire rack over a baking sheet lined with paper towel. Poke top of each pie a couple of times with a fork so steam can escape when frying.
To make TOPPING: Mix sugar and cinnamon in a large shallow bowl.
Gently place pies, 1 or 2 at a time, into hot oil and fry until golden brown, about 2 to 4 minutes per side. Remove from hot oil, using a slotted spoon. Place on wire rack to drain briefly and then gently toss with sugar and cinnamon mixture.
Repeat with remaining pies. Pies are best eaten same day.
Drink Pairings