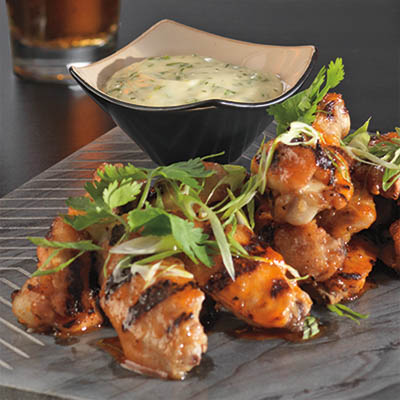 SPICY GRILLED HONEY AND LEMON CHICKEN WINGS
Ingredients
Serves 4 to 6
2 tsp (10 ml) kosher salt
¼ tsp (1 ml) ground black pepper
3 tbsp (15 ml) extra-virgin olive oil
2 lbs (1 kg) chicken wings
¾ cup (175 ml) liquid honey
¼ cup (60 ml) store-bought hot sauce
1 tbsp (15 ml) chopped flat-leaf parsley
2 whole green onions, diagonally sliced
Instructions
Combine garlic, salt, pepper and oil in a large bowl. Whisk to blend. Add chicken wings and turn to evenly coat. Set aside to marinate while making sauce.
In a small saucepan, combine honey, lemon zest and juice, and hot sauce. Bring to a boil over medium-high heat, stirring to blend. Remove from heat and transfer to a large bowl. Set aside.
Preheat oven to 350 F (180 C). Line a baking sheet with shallow sides with foil or parchment paper. Spread wings out on baking sheet in a single layer and bake for about 30 minutes, turning with tongs after 15 minutes for even baking.
When wings are done, add to large bowl with sauce and toss together to evenly coat. Transfer to a serving platter and sprinkle with parsley and green onions.
Drink Pairings