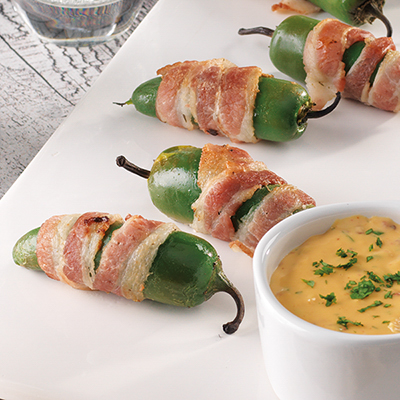 Ingredients
Serves 8
2 tbsp (30 ml) red wine vinegar
1 tbsp (15 ml) Italian seasoning
16 large shrimp, peeled and deveined
8 slices bacon, halved lengthwise
2½ cups (625 ml) freshly grated cheddar
1 tbsp (15 ml) cornstarch
1½ tsp (7.5 ml) unsalted butter
1 large shallot, finely chopped
1 x 12 oz (354 ml) can evaporated milk
2 chipotle chilies in adobo sauce, finely chopped
¼ cup (60 ml) chopped cilantro
2 tbsp (30 ml) whole milk, plus extra
Instructions
In a medium bowl, whisk together oil, vinegar and Italian seasoning. Add shrimp and toss to coat. Set aside for at least 1 hour or refrigerate overnight.
Cut a slit in each jalapeño lengthwise from stem to tip. Place on a plate, cover with a damp paper towel and microwave until slightly softened but still holding shape, about 10 to 20 seconds. Without tearing jalapeño, remove as many seeds and membrane as possible. Carefully stuff 1 marinated shrimp in each pepper. Wrap each pepper with a piece of bacon and secure with a toothpick. Preheat broiler and place on a foil-lined baking tray.
In a bowl, add cheese and cornstarch and toss to coat.
In a medium saucepan over medium heat, melt butter. Add garlic and shallots and cook, stirring often, until shallots are translucent, about 4 minutes. Stir in evaporated milk and cornstarch-coated cheese before adding chilies. Stir until cheese melts and sauce is creamy and smooth. Stir in cilantro and milk before seasoning to taste. If sauce is too thick, adjust with more milk.
Broil bacon-wrapped jalapeños about 5-in (12 cm) from broiler until bacon is cooked and peppers have softened, about 4 minutes on each side. Serve warm alongside prepared dipping sauce.
Drink Pairings