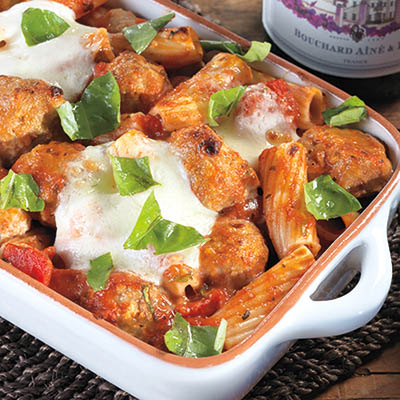 SPICY TOMATO PASTA BAKE WITH TURKEY MEATBALLS
Ingredients
Serves 8 and makes about 30 meatballs
1½ cups (375 ml) unseasoned bread crumbs
4 oz (120 g) turkey bacon
2 leeks, white part only, washed, minced
1½ lbs (750 g) ground turkey
1 lb (500 g) turkey sausages, casings removed, crumbled
2 cups (500 ml) grated Grana Padano cheese
1 handful chopped flat-leaf parsley
½ cup (125 ml) chopped fresh basil
½ tsp (2 ml) crushed red pepper flakes
6 garlic cloves, peeled and thinly sliced
1 medium yellow onion, finely chopped
1½ cups (375 ml) white wine
4 x 28 oz (796 ml) cans plum tomatoes
2 tsp (10 ml) crushed red pepper flakes
1½ cups (375 ml) loosely packed sliced basil
1 cup (250 ml) chopped flat-leaf parsley
454 g package rigatoni or rotini pasta
1 large or 2 medium-sized balls fresh
bocconcini cheese, cut into ¼-in (0.5 cm) slices
Instructions
To make MEATBALLS: Preheat oven to 350 F (180 C). Spread bread crumbs over a baking sheet and toast, stirring once or twice, until golden, 10 minutes. Remove and set aside to cool; then transfer to a large bowl.
Heat a large frying pan over medium heat and add oil, bacon, leeks and shallots and sauté until soft and golden, 5 to 7 minutes. Remove and set aside to cool.
Once cooled, add leek mixture, ground turkey, turkey sausages, grated cheese, eggs, parsley, basil, salt and red pepper flakes to toasted bread crumbs and mix thoroughly with hands until well combined. Form into Ping-Pong-sized meatballs and place on a parchment paper-lined baking sheet. When finished rolling, cover with plastic wrap and refrigerate for 1 hour.
Preheat oven to 375 F (190 C). Remove meatballs from refrigerator and bake until cooked through, 10 to 15 minutes. Remove and set aside.
To make SPICY SAUCE: Heat a large Dutch oven over medium-high heat. When hot, add oil, then garlic. When fragrant, add onion and cook until softened, about 3 minutes. Add wine, tomatoes and red pepper flakes, breaking up tomatoes with a fork. Bring to a boil, then reduce heat with lid ajar, simmer for 30 minutes. Stir in basil and parsley.
Place meatballs in a large saucepan over low heat and add half the Spicy Sauce. Fold in to combine. Simmer, covered, for 15 minutes.
Cook Pasta according to package instructions, or to al dente, in salted boiling water. Drain and mix in remaining sauce.
Divide pasta mixture into 8 ovenproof individual serving dishes or a large serving casserole lightly sprayed with cooking oil. Top with meatballs and sauce. Arrange sliced cheese on top and bake in 375 F (190 C) oven until bubbly and cheese has melted, 10 to 15 minutes.
Drink Pairings