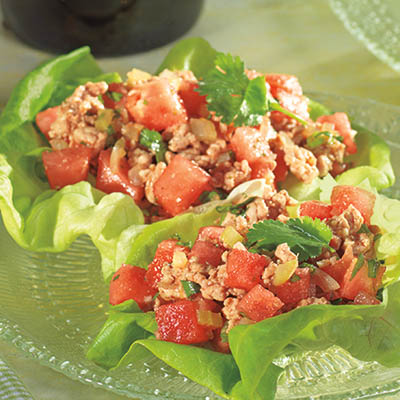 SPICY TURKEY AND WATERMELON LETTUCE WRAPS
Ingredients
Serves 4 to 6
2 tbsp (30 ml) canola oil
1 tbsp (15 ml) minced garlic
1 tbsp (15 ml) minced, peeled fresh ginger
1 medium yellow onion, finely chopped
2 stalks celery, finely chopped
1 lb (500 g) ground turkey or chicken
1 tbsp (15 ml) Chili Garlic Sauce
1 orange, finely grated zest and juice
½ cup (125 ml) hoisin sauce
2 green onions, finely chopped
1 small handful cilantro, finely chopped (optional)
2 cups (500 ml) diced watermelon, ½-in (1.25 cm) cubes
12 iceberg or butter lettuce leaves
Instructions
Heat a large wok or non-stick frying pan over high heat. Add canola oil and stir in minced garlic, ginger, onion and celery. Stir-fry for about 2 minutes or until onion starts to turn translucent. Add ground turkey and cook until there is no pink colour, breaking up meat with a fork.
Add soy sauce, Chili Garlic Sauce, orange zest and juice. Stirfry until most liquid has evaporated. Remove from stove and mix in hoisin sauce, green onions and cilantro.
Fold diced watermelon into mixture. Spoon filling into middle of lettuce leaves, wrap and serve immediately.
Drink Pairings