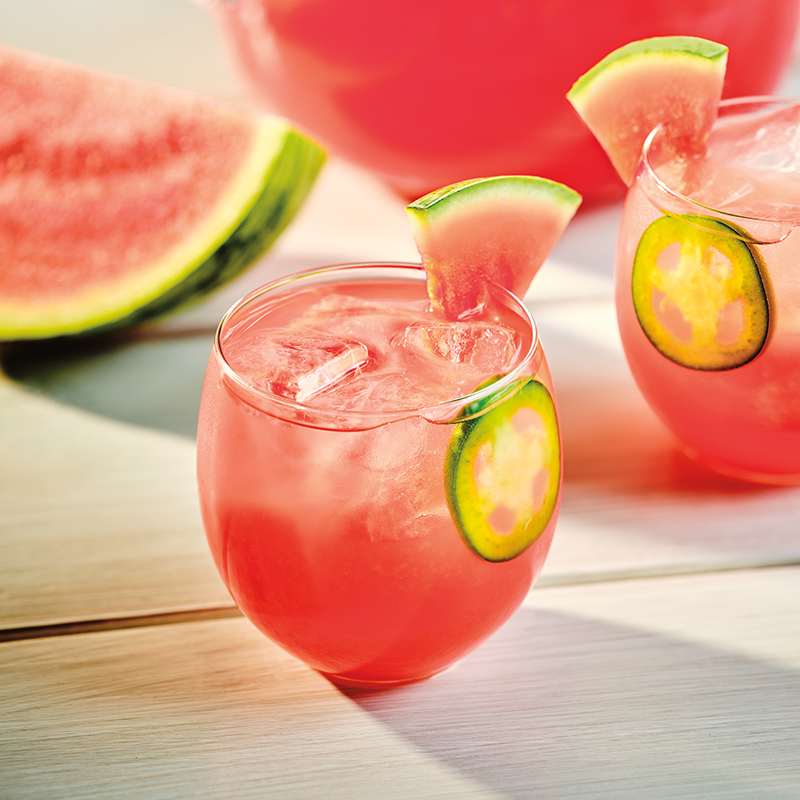 Ingredients
Serves 16 (3L)
50 oz (1.5 L) watermelon juice (need about ¾ medium-sized watermelon, peeled and cubed) plus extra for garnish
2 to 4 jalapeños, sliced (or to taste)
25 oz (750 ml) Iceberg Vodka
12½ oz (375 ml) fresh lemon juice
12½ oz (375 ml) Simple Syrup*
jalapeño slices and watermelon cubes, for garnish
Instructions
Use a juicer or blender to juice or purée fresh, peeled and cubed watermelon along with jalapeño slices. Add juice to a large vessel and combine with vodka (if using), lemon juice and Simple Syrup. Fine strain batched cocktail into a large pitcher with ice. To serve, pour 6 oz (180 ml)** prepared cocktail over cubed ice in a glass then garnish with jalapeño slices and cubed watermelon.
* 1:1 ratio of sugar dissolved in boiling water. Allow to cool before using.
** If starting with a non-alcoholic mix, measure 4 1/2 oz (135 ml) into glass, add 1 1/2 oz (45 ml) of vodka, then fill glass with ice.
Featuring