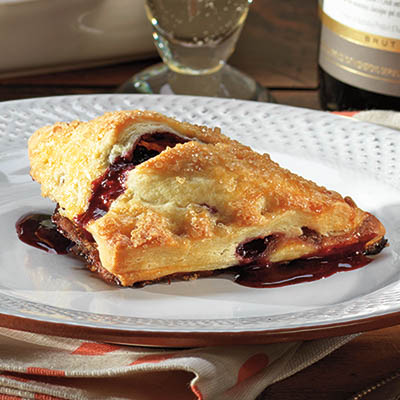 SPIKED BLACKBERRY-CITRUS PASTRIES
Ingredients
Serves 12
8 oz (125 g) plain cream cheese, at room temperature
1 cup (250 ml) unsalted butter, at room temperature
2 cups (500 ml) all-purpose flour
2 tbsp (30 ml) granulated sugar
3 tbsp (45 ml) raw brown sugar
1 cup (250 ml) fresh blackberries
1 Granny Smith apple, peeled, cored and finely diced
¼ cup (60 ml) light brown sugar
1 tbsp (15 ml) cornstarch
2 pinches crushed red chili flakes
Instructions
To make CRUST: In a food processor with metal blade, combine cream cheese and butter and pulse until smooth and creamy. Add flour, granulated sugar and vanilla and pulse until it starts to hold together. Turn out onto a clean work surface lightly dusted with flour. Pat into a rectangle and tightly seal in plastic wrap. Refrigerate at least 2 hours or preferably overnight.
When ready to roll and bake, remove dough from refrigerator for 15 to 20 minutes. Preheat oven to 350 F (180 C). Position racks in bottom and top third of oven. Line a 2 baking sheets with parchment. Lightly dust a rolling pin and work surface with flour. Roll dough into a rectangle slightly larger than 12 x 16-in (30 x 40 cm). Loosen dough a few times, adding flour underneath so it doesn't stick. Trim rectangle to 12 x 16-in (30 x 40 cm) and cut into eight 4-in (10 cm) squares. Brush edges of squares with whisked egg.
In a large bowl, gently toss FILLING ingredients together to evenly mix. Divide equally among squares of dough, about 3 blackberries and some diced apples per square. Bring points of pastry together in a triangle shape, dampen edges and pinch edges to seal. Place on prepared baking sheets.
Brush pastries with egg wash and sprinkle with raw brown sugar. Cut 1 or 2 steam holes in top of each with a paring knife. Bake pastries until golden brown and filling is bubbly, about 25 to 30 minutes. Alternate and swap baking sheet positions halfway through baking. Remove and let cool for a few minutes on sheets. Then with a thin spatula, remove pastries to a rack and cool completely.
Drink Pairings