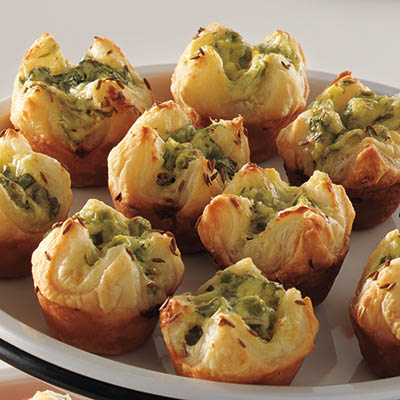 SPINACH, ASPARAGUS AND PEA PUFFS
Ingredients
Serves 25
½ cup (125 ml) chopped asparagus spears
4 oz (125 g) cream cheese, softened
½ cup (125 ml) fresh or thawed frozen peas
1½ tsp (7 ml) chopped fresh dill
½ cup (125 ml) grated sharp cheddar cheese
1 cup (250 ml) packed chopped spinach
¼ tsp (1 ml) freshly ground black pepper
14 oz (400 g) sheet frozen puff pastry, thawed
2 tbsp (30 ml) melted butter
2 tsp (10 ml) toasted cumin seeds
Instructions
Preheat oven to 400 F (200 C). Grease a mini muffin pan with cooking spray and set aside.
Heat oil in a frying pan over medium-high heat and sauté asparagus until tender-crisp, about 3 minutes. Remove pan from heat and stir in cream cheese until melted and well combined. Set aside to cool for 5 minutes before stirring in egg, peas, dill, cheddar cheese, spinach, salt and pepper.
Roll puff pastry into a 12½-in (31 cm) square and cut into 2½-in (6 cm) squares. Line each muffin cup with a puff pastry square, and press well into base of each cup. Evenly divide filling mixture among cups, then bring 4 pastry points together, covering filling. Lightly brush tops with melted butter and sprinkle with cumin seeds. Bake until golden and puffed, 15 minutes. Allow to cool in pan on a wire rack for 7 minutes before removing puffs from muffin cups with a pairing knife. Enjoy warm or at room temperature.
Drink Pairings