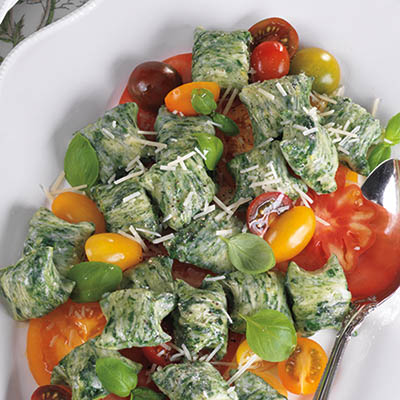 SPINACH AND RICOTTA GNOCCHI
Ingredients
Serves 6
1 x 1 lb (500 g) package frozen chopped baby spinach, thawed
3 tbsp (45 ml) chopped fresh chives
1½ cups (375 ml) ricotta cheese
½ cup (125 ml) finely grated Romano cheese, plus extra for garnish
1 tbsp (15 ml) lemon zest
1¼ cup (300 ml) all-purpose flour, plus extra for dusting
½ tsp (2 ml) salt, plus extra
5 heirloom tomatoes, sliced
1 cup (250 ml) halved cherry tomatoes
salt and freshly ground black pepper, to taste
extra-virgin olive oil, for garnish
Instructions
Squeeze any excess moisture from spinach and coarsely chop before adding to a large bowl along with chives, ricotta, Romano cheese, lemon zest, flour, eggs and salt. Mix well with hands to form a soft dough. Tip dough out onto a lightly floured work surface and divide into roughly 2 equal pieces. Roll each piece into a long rope, about 16-in (40 cm) long, before cutting into 1-in (2.5 cm) pieces. Transfer to a lightly floured baking tray and lightly dust with extra flour. Refrigerate gnocchi until ready to cook.
Bring a large saucepan of salted water to boil over high heat. Cook gnocchi in batches for about 5 minutes or until they float.
Divide tomatoes and gnocchi among serving plates, top with basil and salt and pepper. Garnish with a drizzle of olive oil and sprinkle with Romano cheese.
Drink Pairings