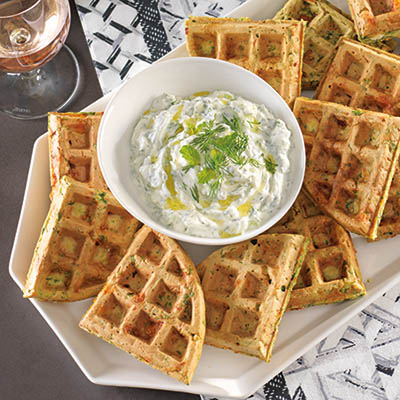 SPINACH, FETA AND SWEET POTATO WAFFLES SERVED WITH TZATZIKI
Ingredients
Serves 6 as an appetizer
2 tbsp (30 ml) olive oil, divided
2 cups (500 ml) diced yam
¼ tsp (1 ml) freshly ground pepper
¾ cup (175 ml) all-purpose flour
½ tsp (2 ml) baking powder
4 cups (1 L) baby spinach, shredded
¾ cup (175 ml) crumbled feta cheese
1 tbsp (15 ml) finely chopped fresh chives
1 tbsp (15 ml) finely chopped fresh dill
1 tsp (5 ml) kosher salt, plus extra
2 cups (500 ml) plain Greek yogurt
½ tsp (2 ml) finely grated lemon zest
2 tbsp (30 ml) finely chopped fresh mint
¼ cup (60 ml) finely chopped fresh dill
1 tbsp (15 ml) extra-virgin olive oil
Instructions
Preheat 1 tbsp (15 ml) oil in a large frying pan over medium heat. Add diced yams and sauté until tender, about 8 minutes. Add a splash of water, as needed, to keep yams from browning too much and sticking to pan. Set aside to cool.
Preheat waffle maker according to manufacturer's instructions.
In a large bowl, whisk together eggs, milk, salt, pepper and remaining 1 tbsp (15 ml) oil. Sift flour, baking powder and baking soda over egg mixture and whisk to combine until smooth. Using a rubber spatula, fold in cooled yams, spinach, feta, chives and dill.
Fill preheated waffle maker with batter, close lid and cook until golden brown and firm, about 5 minutes. Transfer waffle to a wire rack and continue making waffles with remaining batter.
To serve, cut waffles into single servings and transfer to a platter. Serve with Tzatziki drizzled with extra-virgin olive oil and garnished with fresh dill. Waffles may be served warm or at room temperature.
To make TZATZIKI: Coarsely grate cucumber and place in a sieve suspended over a large bowl. Sprinkle salt over cucumber, toss and set aside for 5 minutes. Using your hands, squeeze cucumber to extract as much liquid as possible. Discard liquid.
Transfer cucumber to a large bowl. Add yogurt, garlic, lemon zest, mint, dill and olive oil and stir together until well combined. Thin with 1 to 2 tbsp (15 to 30 ml) of water and season to taste with additional salt, if desired. Store Tzatziki in refrigerator until ready to serve. Garnish with fresh dill and a drizzle of oil. Makes about 3 cups (750 ml).
Drink Pairings