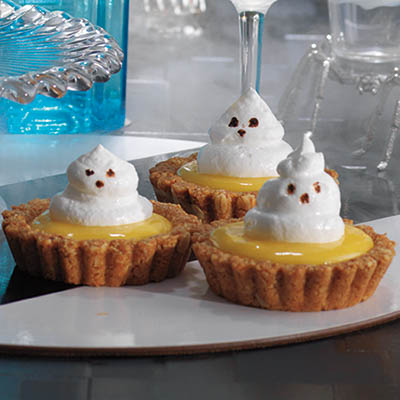 Ingredients
Serves 8
1 cup (250 ml) granulated sugar
½ cup (125 ml) lemon juice
1 tbsp (15 ml) lemon zest
½ cup (125 ml) cold unsalted butter, diced
¼ cup (60 ml) limoncello liqueur
1½ tbsp (21 ml) light brown sugar
1½ tbsp (21 ml) vegetable oil
1½ tbsp (21 ml) liquid clover honey
1 tsp (5 ml) vanilla extract
½ cup (125 ml) toasted hazelnuts
1 cup (125 ml) large-flaked rolled oats
1 cup (250 ml) granulated sugar
5 large egg whites, at room temperature
⅛ tsp (0.5 ml) table salt
⅛ tsp (0.5 ml) cream of tartar
brown gel food colouring, for garnish
Instructions
To make LIMONCELLO CURD: Fill a medium-sized saucepan with 1½-in (3.5 cm) water and bring to a simmer over medium-high heat. Meanwhile, in a medium-sized glass or stainless steel bowl, whisk together egg yolks and sugar until thick and pale, about 2 minutes. Add lemon juice and zest and whisk to combine.
Set bowl with egg mixture over simmering water, making sure bowl does not touch water, and whisk constantly until mixture thickens and coats back of a spoon, about 9 to 11 minutes
Remove bowl from heat and whisk in butter until blended. Stir in limoncello. Strain curd through fine-meshed sieve set over a bowl. Cover curd with plastic wrap, pressing wrap onto surface of curd to prevent a skin from forming. Chill in refrigerator until cold. Curd may be made up to 4 days ahead and kept refrigerated until ready to use.
To make GRANOLA CRUST: Preheat oven to 300 F (150 C). Generously grease eight 3-in (8 cm) tartlet moulds before setting on a baking tray. Set aside.
In a small saucepan, stir together brown sugar, oil and honey over medium heat until sugar has dissolved, about 2 minutes. Remove from heat and stir in vanilla extract.
In a food processor, pulse hazelnuts until coarsely chopped. Add oats and salt, and pulse until finely ground. Add brown sugar mixture and pulse again 4 or 5 times until well combined. Press 2 tbsp (30 ml) mixture into bottom and up sides of each tartlet mold. Bake until golden brown, about 20 to 25 minutes.
Let granola crusts cool in moulds for 20 minutes. Gently remove crusts from moulds using a thin pairing knife to loosent. Transfer to a wire rack and cool completely to room temperature. May be made up to 5 days ahead and stored in an airtight container at room temperature.
To make MERINGUE GHOSTS: Shortly before serving, bring sugar and water to a boil in a small saucepan over medium-high heat. Reduce heat to medium and simmer until soft-ball stage registering 235 F (113 C) on a candy thermometer, about 3 to 5 minutes. As mixture cooks, occasionally wash down sides of pan with a wet pastry brush to prevent sugar crystals from forming.
In a large bowl whip together egg whites and salt with an electric mixer until frothy. Add cream of tartar and increase speed to medium, whipping until soft peaks form, about 3 minutes. With mixer att medium speed, pour hot sugar syrup in a very thin stream down side of bowl. Once all syrup has been added, increase mixer speed to medium-high and whisk until egg whites are firm and glossy and mixing bowl is cool to the touch, 6 to 8 minutes. Transfer meringue to a piping bag fitted with a round piping tip 1½-in (3.5 cm) wide.
To assemble tarts, fill each shell with limoncello curd and smooth to create a flat top. Pipe meringue ghost shapes onto curd. Dip a small paintbrush in brown gel and dot meringue to form eyes and mouth of ghost. Serve immediately.
Drink Pairings