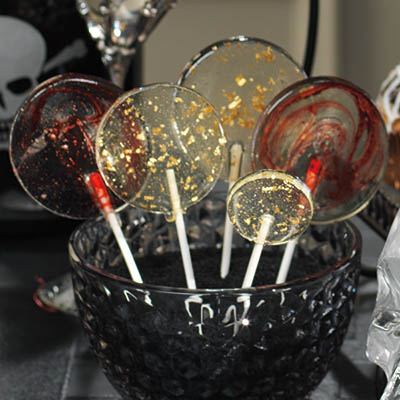 Ingredients
Serves 12 pops
1½ cups (375 ml) granulated sugar
¼ cup (60 ml) light corn syrup
½ tsp (2 ml) clear flavouring of choice (clear vanilla, peppermint, cinnamon, etc.)
red gel food colouring (optional)
gold leaf flakes (optional)
Instructions
Place twelve 2½-in (6.25 cm) lollipop moulds on baking trays and lightly oil with a flavourless oil, such as grapeseed oil. Have red food colouring, gold leaf flakes and lollipop sticks ready. Alternatively, line three baking trays with silicone mats and set aside.
In a large 3 L (12 cup) saucepan, stir together water, sugar and corn syrup over medium-high heat until sugar has dissolved. Without stirring, allow mixture to come to a boil. Boil until mixture reaches 300 F (150 C) on a candy thermometer. Add vodka and flavouring of choice, stirring just to incorporate, before letting mixture return to 300 F (150 C).
Working quickly, remove sugar mixture from heat. One at a time, pour into cavities of half the lollipop moulds. After a few seconds, swirl a lollipop stick dipped in food colouring around in mould to make a marbling effect in each. Place lollipop stick in centre of each mould and twist 180 degrees so that it is fully covered in syrup.
Once half the syrup is used up, if using, stir in some gold leaf flakes before pouring into remaining moulds. Repeat placing lollipop stick in centre of each mould before twisting 180 degrees so that it is fully covered in syrup. Let cool completely at room temperature, about 3 hours. If using silicone mats, simply pour rounds of hot sugar mixture until desired size is reached and decorate as described above.
Remove lollipops from moulds and store in an airtight container, preferably overnight, allowing flavours to develop.
Drink Pairings