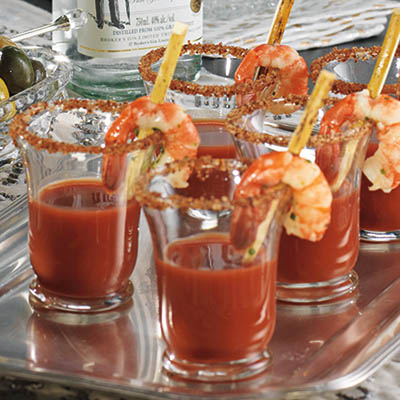 Ingredients
Serves 10
½ lb (250 g) spot prawn tails
2 tbsp (30 ml) lemon juice
1 tsp (5 ml) each, chopped parsley and chopped chives
1 pinch freshly ground pepper
10 oz (300 ml) Caesar or clamato juice
1 tbsp (15 ml) Worcestershire sauce
¼ cup (60 ml) Caesar rim salt
Instructions
Bring a medium-sized saucepan of salted water to a boil. Add prawns and cook for 30 seconds, remove and immediately place in an ice bath, once cooled, peel.
Mix prawns with lemon juice, parsley, chives, salt and pepper. Skewer with a 2-in (5 cm) skewer and set aside.
Mix the Caesar juice mix, Worcestershire and Tabasco sauce. Divide evenly between 10 x 3 oz (90 g) shot glasses, garnish with prawns.
Drink Pairings