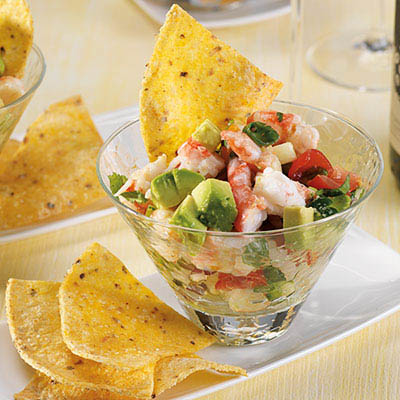 Ingredients
Serves 4 to 6
¼ cup (60 ml) kosher salt
1 lb (500 g) BC spot prawn tails, peeled, deveined
2 medium oranges, juice only
1 cup (250 ml) seeded, peeled English cucumber, cut into ¼-in (0.5 cm) dice
½ cup (125 ml) finely chopped red onion
2 jalapeño or serrano chilies, seeded and finely chopped
1 cup (250 ml) seeded, heirloom cherry tomatoes, cut into ½-in (1.25 cm) dice
1 avocado, cut into ½-in (1.25 cm) dice
2 green onions, finely sliced
¼ cup (60 ml) coarsely chopped fresh cilantro
2 tbsp (30 ml) extra-virgin olive oil
Instructions
In a large saucepan, combine water and kosher salt, then bring to a boil over high heat. Add spot prawns and immediately turn off heat. Let prawns sit until just cooked through, about 2 minutes. Drain and set aside until cool enough to handle. Transfer to cutting board and cut into ½-in (1.25 cm) pieces and place into a nonreactive bowl.
To bowl, add citrus juices, cucumber, red onion and chilies. Refrigerate for 1 hour.
Stir in tomatoes, avocado, green onions, chopped cilantro, olive oil and salt and pepper. Let stand at room temperature 30 minutes before serving. Serve ceviche with tortilla chips.
Drink Pairings