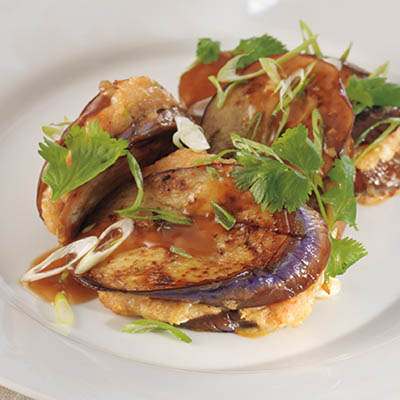 SPOT PRAWN-STUFFED EGGPLANT
Ingredients
Serves 4
2 tsp (10 ml) vegetable oil
½ cup (125 ml) chicken broth
2 tbsp (30 ml) oyster sauce
1 tsp (5 ml) granulated sugar
1 tbsp (15 ml) cornstarch
1 tsp (5 ml) peeled and minced fresh ginger root
1 tsp (5 ml) granulated sugar
1 tsp (5 ml) Shaoxing cooking wine
1 whole green onion, minced
2 Japanese eggplants, sliced into 1-in (1.25 cm) slices
2 tbsp (30 ml) vegetable oil, plus extra if needed
Instructions
To make OYSTER AND GARLIC SAUCE: In a small, heavy-bottomed saucepan, sauté garlic in vegetable oil over medium heat until golden.
Add chicken broth, oyster sauce, soy sauce and sugar. Stir and bring to a boil. In a small bowl, stir cornstarch and water to blend. Whisk into chicken broth mixture and bring to a boil. Boil just until thickened, about 30 seconds. Serve with Stuffed Eggplant.
To make STUFFED EGGPLANT: Peel spot prawns and remove heads and tails. Devein and place prawns in a food processor. Add cornstarch, garlic, ginger, soy sauce, sugar and cooking wine to food processor. Pulse until a coarse paste forms. Remove prawn mixture to a bowl and stir in green onion.
Sandwich about 1 tbsp (15 ml) of the prawn mixture between two slices of eggplant. Repeat with remaining eggplant and stuffing.
Heat vegetable oil in a frying pan large enough to hold eggplant in a single layer.
Working in batches, fry the stuffed eggplant over medium heat for about 12 minutes on each side until golden brown. Add more oil if necessary.
Once all the eggplant has been browned, return them to the pan in a single layer. Add ½ cup (125 ml) water. Cover and steam for 8 minutes, or until you can easily pierce eggplant with a knife.
Place on a platter and drizzle with Oyster Garlic Sauce. Garnish with cilantro.
Drink Pairings