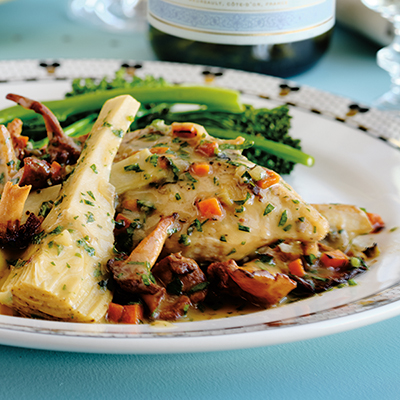 Spring Chicken Parisienne
Ingredients
Serves 4
1¼ lbs (625 g) boneless skinless chicken breasts (about 4 breasts), sliced in half horizontally
sea salt and black pepper, to taste
3 tbsp (45 ml) finely minced shallot
1 medium carrot, finely diced
1 celery stalk, finely diced
8 oz (250 g) mushrooms (mix of wild and button), cleaned, sliced into large pieces
2 large garlic cloves, finely minced
1 cup (250 ml) dry white wine
1 cup (250 ml) chicken stock
¼ cup (60 ml) crème fraîche or whipping cream
3 marinated artichoke hearts (with stems if possible), quartered
2 tbsp (30 ml) finely chopped tarragon
2 tbsp (30 ml) finely chopped Italian parsley
2 tbsp (30 ml) finely chopped chives
3 tbsp (45 ml) freshly squeezed lemon juice
Instructions
In a large Dutch oven or heavy-bottomed saucepan, heat olive oil over medium-high heat. Generously season chicken with salt and pepper and sear on both sides, about 3 minutes total. Transfer chicken to a plate.
Lower heat to medium then add shallot, carrot and celery and cook until softened, about 4 minutes. Add mushrooms, stirring, until just cooked, about 5 minutes. Season with salt and pepper, then add garlic and flour and stir to coat vegetables. Cook for 2 minutes, stirring and scraping any brown bits from bottom of pan.
Deglaze pan with wine and reduce by half, about 1 minute. Add stock, thyme, bay leaves and crème fraîche or cream. Bring to a low simmer and add chicken and any juices left on plate. Cook for 5 minutes, then turn over chicken breasts, baste, and add artichoke hearts, tarragon, parsley and chives. Simmer for 5 more minutes or until chicken is cooked through. Stir in lemon juice and season to taste. Divide between 4 shallow bowls and serve immediately.
Drink Pairings