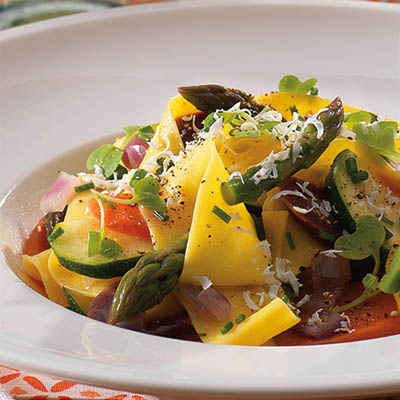 SPRING GARDEN PAPPARDELLE
Ingredients
Serves 4
3 tbsp (45 ml) extra-virgin olive oil, divided
salt and freshly ground pepper, to taste
12 oz (340 g) pappardelle pasta
1 tbsp (15 ml) unsalted butter
1 cup (250 ml) fresh carrots, trimmed, peeled and cut into thin diagonal slices
1 cup (250 ml) asparagus, trimmed and cut into 1½-in (4 cm) pieces
½ cup (125 ml) diced red onion
2 tsp (10 ml) minced garlic, divided
1 cup (250 ml) zucchini, trimmed, cut in half lengthwise and then thinly sliced
3 tbsp (45 ml) finely chopped fresh chives
1 cup (250 ml) micro greens, for garnish
Instructions
Bring a large pot of salted water to a boil.
To make a lemon dressing, in a large bowl, whisk together lemon zest and juice, 2 tbsp (30 ml) extra-virgin olive oil and a good pinch of salt and pepper. Set aside.
Cook pasta according to package directions until al dente. Drain, then transfer while warm to bowl with lemon dressing and toss to coat.
Meanwhile, in a large frying pan, combine butter and 1 tbsp (15 ml) olive oil over medium-high heat until butter is melted. Add carrots, asparagus, onions and garlic. Cook until carrots and asparagus are crisp-tender, about 4 minutes. Add zucchini and cook 1 more minute. Toss pasta in frying pan with vegetables to warm for 1 minute. Add chives and toss to coat. Season to taste with salt and pepper. Toss with micro greens and serve immediately, divided evenly among warmed pasta bowls.
Drink Pairings