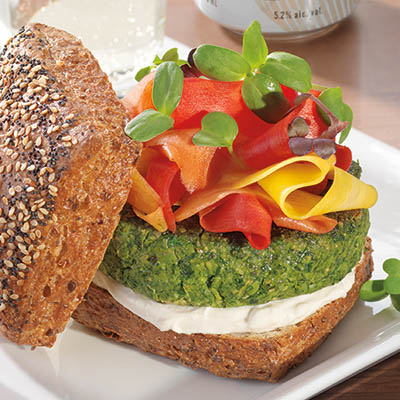 SPRING GREENS BURGER WITH PICKLED CARROTS
Ingredients
Serves 6
1 tbsp (15 ml) grapeseed oil, divided
1 medium yellow onion, finely chopped
2 cups (500 ml) frozen green chickpeas, thawed
2 cups (500 ml) chopped, lightly packed fresh kale le
1 x 8 oz (250 g) package frozen spinach leaves, thawed, water squeezed out, chopped
1 cup (250 ml) chopped, lightly packed fresh mint leaves
½ cup (125 ml) rolled oats
½ cup (125 ml) brown rice flour
finely grated zest of 1 lemon
2 tbsp (30 ml) chia seeds
salt and pepper, to taste
1 cup (250 ml) plain Greek yogurt
6 wholegrain burger buns, halved
2 cups (500 ml) baby mixed greens, to serve
2 tbsp (30 ml) roughly chopped dill
1 pinch coarsely ground black pepper
1 cup (250 ml) white wine vinegar
½ cup (125 ml) granulated sugar
1 tbsp (15 ml) kosher salt
Instructions
Warm half the oil in a frying pan over medium heat. Add onion and cook, stirring often, until softened. Add garlic and continue to cook another 2 minutes.
In a food processor fitted with steel blade attachment, add onion mixture, chickpeas, kale, spinach, mint, oats, egg, rice flour, lemon zest, chia seeds and a good pinch of salt and pepper. Pulse until well combined. Mixture will easily hold together when pressed together. Shape mixture into 6 patties, place on a parchment-lined baking tray and freeze for 10 minutes.
Heat remaining oil in a cast iron skillet or non-stick frying pan over medium heat. Cook patties, in batches, until golden brown on each side, about 3 minutes per side.
In a small bowl, whisk together yogurt and tahini. Spread cut side of bottom buns with yogurt mixture. Top with patties, mixed greens and Pickled Carrots before capping it all off with top bun. Serve immediately.
To make PICKLED CARROTS: Using a vegetable peeler, peel carrots lengthwise into long, thin ribbons. In a large bowl combine carrot ribbons, dill and pepper. Set aside.
In a small saucepan, combine vinegar, sugar and salt. Bring just to boiling over medium-high heat. Immediately pour over carrot mixture, stirring to combine, and set aside to cool to room temperature. Cover and chill for 1 hour or up to 3 days. Makes about 1 cup (250 ml).
Drink Pairings