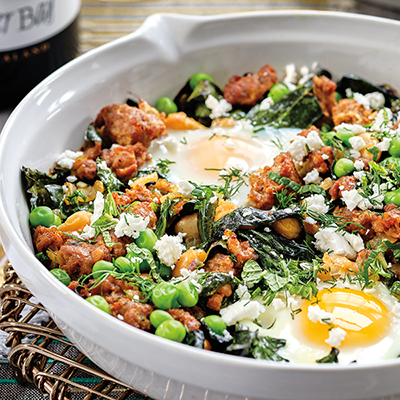 Ingredients
Serves 2
4 cups (1 L) dark leafy greens, such as kale, chard and/or spinach
2 raw chorizo sausages, casings removed
1 cup (250 ml) cooked or canned* white kidney beans, rinsed
1 cup (250 ml) frozen peas, thawed
½ cup (125 ml) crumbled feta, for garnish
¼ cup (60 ml) chopped dill, for garnish
¼ cup (60 ml) chopped mint, for garnish
Instructions
Preheat oven to 350 F (180 C).
Remove tough ribs and stems from kale and chard, if using, and slice leaves into bite-sized pieces.
In a 10-in (25 cm) cast iron or ovenproof pan, heat oil over medium heat. Add onion and garlic and sauté for 10 minutes, or until translucent. Add chorizo, breaking apart with a wooden spoon as it cooks, and sauté for 6 to 8 minutes, or until cooked through. Add poblano pepper and cook for another 5 minutes, or until softened. Add greens, beans and peas and gently stir until greens have wilted, about 3 to 5 minutes.
Using the back of a spoon, make two small wells in mixture and crack 1 egg into each. Transfer pan to oven and bake for 6 to 10 minutes, or until eggs are cooked as desired. Meanwhile, heat flatbread in oven for 5 minutes.
Remove Shakshuka from oven and garnish with feta, dill and mint. Serve warm with flatbread.
*If using canned beans, any extra can be reserved and frozen for later use, if desired.
Drink Pairings