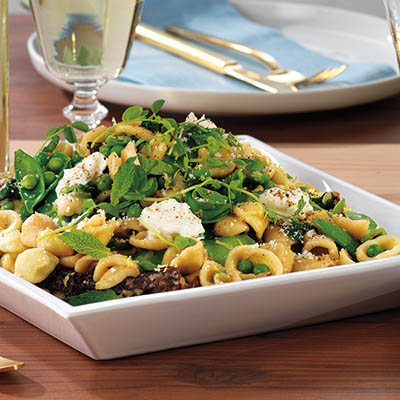 Ingredients
Serves 4
8 oz (250 g) fresh morel mushrooms, halved or quartered
2 cups (500 ml) packed dandelion greens
salt and pepper, to taste
1 lb (500 g) dried or fresh Orecchiette Pasta
2 cup (500 ml) fresh shelled peas
1½ cup (375 ml) sugar snap peas
½ cup (375 ml) snow pea pods
½ cup (125 ml) grated Parmesan, divided
1 lemon, zest only, finely grated, for garnish
¼ cup (60 ml) pea shoots, for garnish
2 tbsp (30 ml) fresh mint leaves, for garnish
Instructions
In a large pot, bring 4 liters (16 cups) of water and 2 tbsp (30 ml) salt to a boil.
Meanwhile, in a large frying pan, sauté onion in oil on medium-high until tender. Add garlic and mushrooms, turn down heat to medium and cook, stirring occasionally, until golden and tender, about 8 minutes. Add greens and cook, stirring often, until just wilted. Season to taste with salt and pepper before removing from heat and setting aside.
In a small bowl, whisk together eggs. Set aside.
When water comes to a boil, add pasta. Turn down heat to medium-low and maintaining a slow boil until pasta is just al dente, about 7 minutes. Ladle out and set aside 1 cup (250 ml) of cooking water. Add peas to water with pasta. Increase heat to high and cook for 1 minute. Drain pasta and vegetables, do not rinse. Return to pot and place on warm stovetop burner that has been turned off. Gradually whisk 3 tbsp (45 ml) reserved hot pasta water into eggs, then pour over pasta, gently stirring with a wooden spoon to coat pasta. Stir in ⅔ of Parmesan, mushroom mixture and enough reserved pasta water to loosen pasta and create a creamy sauce. Season to taste with pepper.
Serve with a sprinkle of lemon zest, remaining Parmesan, torn mint leaves and dollops of burrata cheese. Serve warm.
Drink Pairings