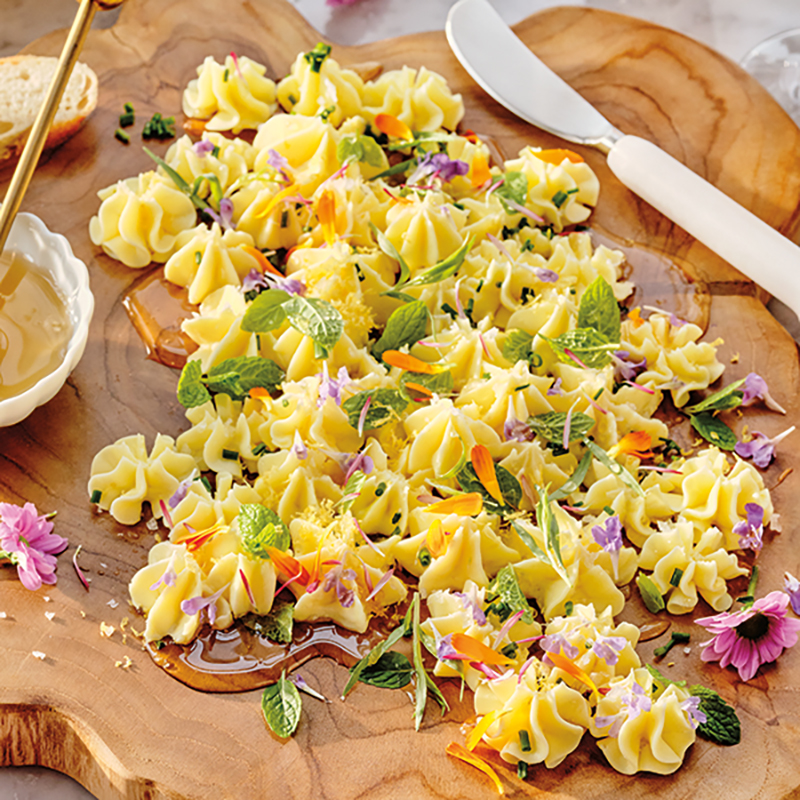 Springtime Honey & Flower Butter Board
A bevy of boards, both sweet and savoury, perfect for sharing.
Ingredients
Serves 8
1 cup (250 ml) unsalted butter, softened
2 tsp (10 ml) flaky sea salt
2 tbsp (30 ml) fresh chives, chopped
2 tbsp (30 ml) fresh mint leaves, torn or cut into chiffonade
2 tbsp (30 ml) fresh tarragon leaves, left whole or torn
2 tbsp (30 ml) edible flowers, dried or fresh
1 tbsp (15 ml) wildflower honey
warm baguette, for serving
Instructions
In a medium bowl, mash butter with a spoon until it is the consistency of peanut butter but not melted. Transfer softened butter into a couple of piping bags fitted with different shaped and sized star piping tips. Pipe rosettes of butter onto cutting board. Alternatively, thickly spread butter onto cutting board and use a knife or back of a spoon to add swirls, peaks and valleys in butter.
Liberally sprinkle flaky sea salt and lemon zest over butter.
In a small bowl, gently toss together chives, mint, tarragon and edible flowers until well combined. Sprinkle over butter before drizzling wildflower honey over top of everything.
Serve alongside warm slices of baguette for dipping.
Drink Pairings