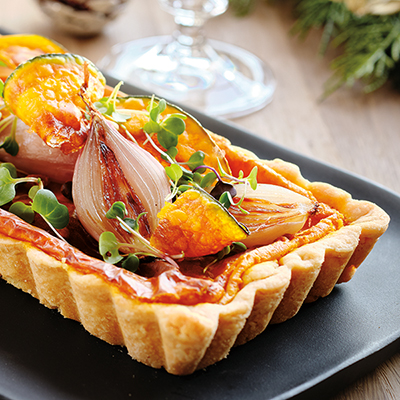 Squash and Goat's Cheese Tart
Ingredients
Serves 6. May include egg and dairy.
2½ cups (625 ml) all-purpose flour
1 cup (250 ml) cold butter, cubed
¼ cup (60 ml) ice cold water, plus more if needed
1 large kabocha squash, halved, seeds removed (about 2 lbs / 900 g)
2 oz (150 g) goat's cheese, room temperature
½ cup (125 ml) + 1 tbsp (15 ml) whipping cream, room temperature, divided
¼ cup (60 ml) whole milk, room temperature
1 pinch ground black pepper
3 tsp (15 ml) salt, divided
cooking spray, for greasing
3 shallots, peeled and halved
vegetable oil, for frying
2 tbsp (30 ml) toasted pine nuts
1 handful microgreens or flat-leaf parsley, for garnish
Instructions
To make pastry, pulse flour, sugar, salt and butter in a food processor until mixture reaches a sandy consistency, with small pieces of butter throughout. If you do not have a food processor, cut butter into dry ingredients to desired size using a pastry cutter or your fingers.
Slowly add in half the water while pulsing, until dough just comes together into a ball, adding more water if needed. If making by hand, mix gently with a fork just until dough comes together. Turn dough out onto a clean surface and gather together in a loose, flat disc. Wrap in plastic wrap and refrigerate for at least 2 hours or up to 24 hours (or freeze for up to 1 month).
To make kabocha chips, with a mandoline or vegetable peeler, carefully slice or peel 10 ⅛-in (0.25 cm) slices from 1 of the raw kabocha halves (with skin on). Set aside. Peel remaining squash and steam in a steamer, or in a medium saucepan with a lid with 1-in (2.5 cm) water, over medium heat until fork-tender, about 20 to 25 minutes. Allow to cool.
Transfer 14 oz (400 g) (about 3 cups/750 ml) cooked squash to a blender (reserve any extra for another use). Add goat's cheese, ½ cup (125 ml) whipping cream, milk, spices, pepper, 2 tsp (10 ml) salt and eggs. Blend until smooth, then tap blender jug on counter to release any air bubbles. Set aside until ready to use, or refrigerate for up to 1 day.
Grease a 13.75 x 4.25-in (35 x 11 cm) rectangular tart pan with cooking spray and set aside. Leave pastry out at room temperature for 15 minutes to make it easier to roll. Roll out pastry on a floured surface into a ⅛-in (0.25 cm) thick rectangle measuring 1-in (2.5 cm) larger than your pan. Transfer pastry into pan by rolling it onto your rolling pin, then rolling it out onto pan. Gently push it into pan, then trim off edges. Lightly poke bottom of pastry all over with a fork. Refrigerate for at least 30 minutes. Meanwhile, preheat oven to 400 F (200 C).
Toss shallots with olive oil and remaining 1 tsp (5 ml) salt and place on a baking sheet, cut-side down.
Blind bake tart shell: place a circle of parchment paper inside pastry shell and fill it with uncooked rice or beans. Place tart pan on a baking sheet (to make it easier to move around) and bake for 20 minutes. At the same time, roast shallots until golden and cooked through, about 20 minutes.
Remove tart shell and shallots from oven. Remove rice/beans and parchment from shell and discard or save for future use (for blind baking only—rice/beans will not cook properly or taste good after using to blind bake).
Mix egg yolk with remaining 1 tbsp (15 ml) whipping cream, then brush onto pastry. Return pastry to oven for 2 to 3 minutes, just until egg wash has set. Allow tart shell to cool to room temperature. Reduce oven temperature to 350 F (180 C).
Pour squash filling into tart; it should reach just over ¾ of the way up. Bake tart for 30 to 40 minutes, or just until middle of tart is set and does not jiggle. Allow to cool to room temperature before serving.
In a small saucepan, deep fry thinly sliced kabocha in 1-in (2.5 cm) vegetable oil at 350 F (180 C) until golden brown, about 5 minutes. Remove to paper towel to drain.
Just before serving, remove tart from pan and garnish with roasted shallots, kabocha chips, pine nuts and microgreens or parsley.
*Can also be made using store bought pie dough. If doing so, skip steps 1 and 2 and introduce pastry at step 5.
Drink Pairings