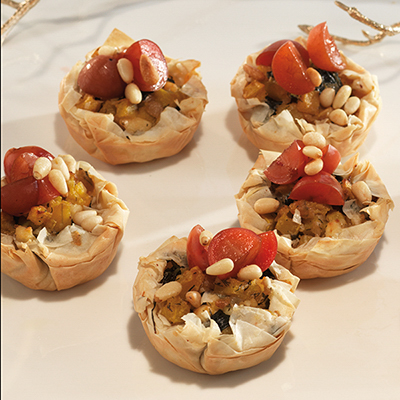 SQUASH, FETA AND GRAPE TARTS
Ingredients
Serves 8
¾ cup (175 ml) red wine vinegar
6 tbsp (90 ml) granulated sugar
¼ tsp (1 ml) kosher salt, plus extra, to taste
½ tsp (2.5 ml) yellow mustard seeds
1 cup (250 ml) seedless red grapes, cut in half
2 cups (500 ml) small diced butternut squash
3 tbsp (45 ml) olive oil, divided, plus extra for brushing
salt and pepper, to taste
1 yellow onion, finely chopped
8 oz (250 g) fresh spinach
1 tbsp (15 ml) chopped dill
4 oz (125 g) crumbled feta cheese
2 tbsp (30 ml) toasted pine nuts, for garnish
Instructions
In a small saucepan over medium-high heat, bring red wine vinegar, sugar, salt and mustard seeds to a simmer. Stir until sugar has dissolved. Remove from heat and let cool 10 minutes. Place grapes in a small airtight container. Pour vinegar mixture over grapes, seal jar and refrigerate at least an hour or overnight.
Preheat oven to 350 F (180 C). Lightly grease 16 mini-muffin cups with oil.
Toss diced butternut squash with 1 tbsp (15 ml) oil and salt and pepper, to taste. Place in a single layer on a baking tray and bake for 15 minutes, stirring once.
In a large frying pan over medium heat, heat remaining 2 tbsp (30ml) oil. Add onion and sauté until translucent, about 6 minutes. Stir in spinach and cook until wilted and no water released from spinach left in pan. Stir in dill, season with salt and pepper. Remove from heat, fold in crumbled feta and baked squash. Set aside.
On a clean work surface, unroll phyllo pastry and stack layers on top of each other. Using a sharp knife or pizza cutter, cut into 3 x 3-in (8 x 8 cm) squares. Working with 1 set of pastry squares at a time, separate into individual layers. Brush 1 piece with oil before placing another phyllo square on top at an angle. Repeat process until there are 6 squares on top of each other at a different angle to create a star shape. Gently press oiled pastry into muffin cup and repeat with remaining phyllo pastry squares. Divide squash filling among phyllo cups and fold extra pastry over filling, roughly crimping edges so filling is still exposed. Brush edges with extra oil.
Bake until filling is warm and phyllo is golden brown, about 20 to 25 minutes. Transfer warm tarts to a cooling rack to cool slightly before garnishing with drained pickled grapes and pine nuts. Transfer to a serving platter and serve warm.
Drink Pairings