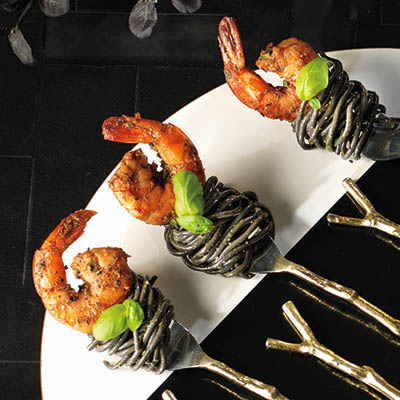 SQUID INK PESTO PASTA BITES WITH SPICY PRAWNS
Ingredients
Serves 18 pasta bites
½ cup (125 ml) packed fresh basil leaves, plus extra for garnish
½ cup (125 ml) packed fresh spinach
¼ cup (60 ml) grated Parmesan
¼ cup (60 ml) extra-virgin olive oil, plus extra, as needed
½ lb (250 g) squid ink spaghetti
basil leaves, for garnish
1 lemon, zested and juiced
2 tsp (10 ml) dried basil
1 tsp (5 ml) dried oregano
¼ cup (60 ml) flat leaf parsley
½ tsp (2 ml) smoked paprika
1 tbsp (15 ml) chili powder
18 large prawns, tails peeled
Instructions
Bring a large pot of salted water to a boil.
In a food processor, pulse together pine nuts and garlic until finely chopped. Scrape down sides of processor with a rubber spatula, as needed. Add basil, spinach and Parmesan and continue to pulse until basil and spinach are roughly chopped. With motor running, slowly drizzle in olive oil until a slightly chunky pesto sauce forms. If mixture is too dry, add additional oil, 1 tbsp (15 ml) at a time, until desired consistency is achieved. Transfer to a bowl and set aside.
Cook pasta to al dente according to package directions. Drain and reserve ¼ cup (60 ml) cooking liquid. Place pasta back in pot and stir in pesto. If pesto is not covering pasta evenly, add reserved pasta water 1 tbsp (15 ml) at a time.
To serve, swirl a few strands of pasta onto serving forks. Spear a Spicy Prawn onto end of each and place forks in a row on a serving platter. Garnish with basil. Serve warm or at room temperature.
To make SPICY PRAWNS: In large bowl, whisk together olive oil, lemon zest and juice, salt, basil, oregano, thyme, parsley, garlic, paprika and chili powder. Place prawns in marinade, toss to coat and refrigerate for at least 2 hours.
Preheat broiler. Line a baking tray with tin foil and set aside.
Remove prawns from marinade and place in a single layer on prepared baking tray. Broil prawns, turning once, until pink and firm, about 3 minutes total. Transfer to a plate.
Drink Pairings